Audio-visual installation
Friday, 1 March 2019 at 8 pm
Project Room SCCA, Metelkova 6, Ljubljana
The exhibition will be on display until Friday, 8 March 2019.
---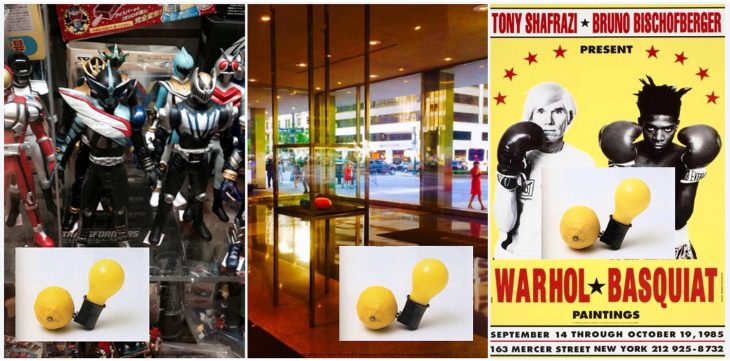 After some 36 years of acting on the New York art scene, Emil Memon returns to Ljubljana! This time with solo show at the Project Room SCCA and its surroundings. We will see and listen to his installations, video projections, sculptures, posters, prints and objects.
During all those years, he was in various roles and activities, he researched and exhibited in NYC and worldwide, participated at installing the exhibitions of famous artists in New York art galleries, staged installations in clubs and held concerts with excellent musicians there. He made films and videos, and released several music CDs and video clips. He is now making his first feature film entitled Mishima Film.
He curated group shows and wrote about art. Every week he visited the Metropolitan Museum and monitored the actual events in the vibrant city. At the same time, he was always open to newcomers from Slovenia and acquainted them with the NYC streets and clubs.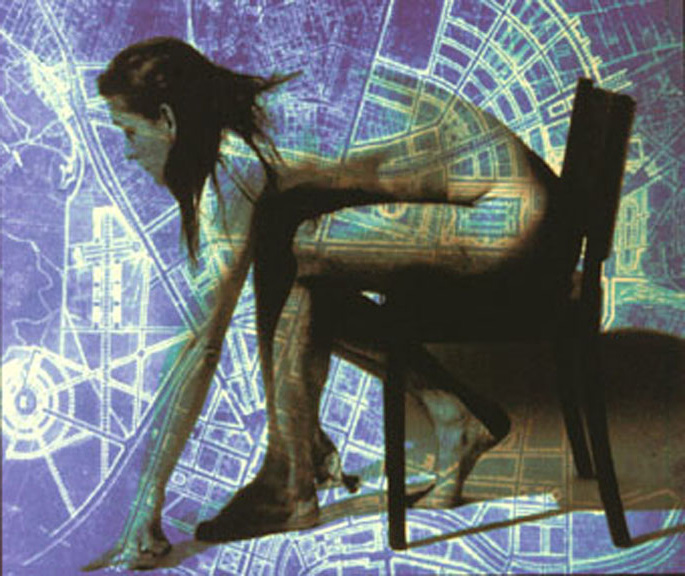 ---
WORKS AT THE EXHIBITION
Photo: Emil Memon
Description of exhibited works (pdf)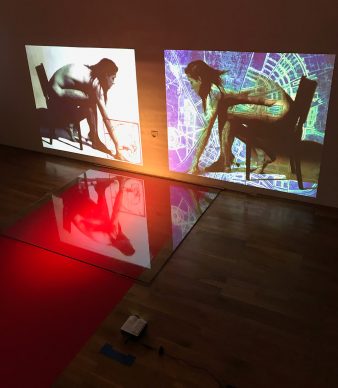 Newton, triptych installation, 1993/2019
It is based on William Blake's monotype of Isaac Newton on the bottom of the sea, featuring his comment on science and rationalism. I was re-enacting Blake's image and incorporating into the work few other references. On the left panel in the image is, as the stamp on Chinese antique scrolls, my etching from the set "City planning", on the right panel, is Jože Plečnik's city plan for Ljubljana. Work is, apart from homage to William Blake and Arte Povera, also about coexistence of different systems.
The work consists of two-panel projections on the wall, red plastic, glass, copper pipe and my recorded music being played during the show. (I produced the images at MTV offices since they had some first computers using Photoshop).
Installation "Newton" was a part of the 42 23th art show, which I curated in the early 1990s at multiple floors of 23 St. townhouse in NYC. Participating Artist were Australian artist and friend Ilmar Caruso, German/Swedish artist Jarg Geismar and me. At that time, I curated few art shows and events, part of my ethics of self-reliance that goes through my work including using NYC nightclubs as art venues.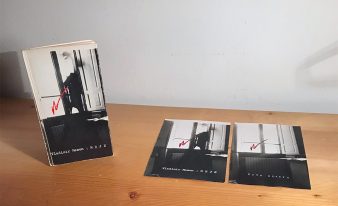 Vladimir Memon: Meje [Borders], a book of poetry (Pota mladih, Mladinska knjiga, Ljubljana 1979)
+ Emil Memon: an original artwork for the cover of the book, 1979
The drawing was inspired by Antonioni's Blow Up film, particularly, the ambiguous scene in the park. Later, this connection between my brother's collection of poems and my visual art was in a way repeated in DC Project work that I did in collaboration with Tobias Putrih for The Embassy of Slovenia in Washington, D.C., 2009.In the 1980s I made also the art design (photographs with scenes from my short films) for a special edition of the Problemi magazine entitled »Fantastic Prose« (Year 18, No 198/199, 1980).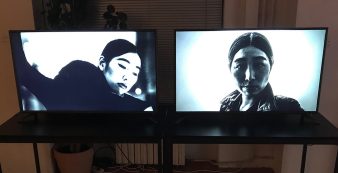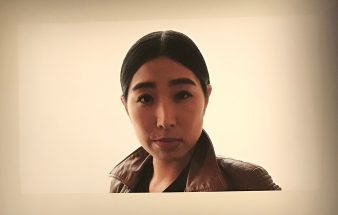 Mishima Film, series of works connected to Memon's feature film, 2015/2019
(Author: Emil Memon, DOP: Pawel Wojtasik, Actresses: Yuko Torihara as Yukio Mishima and Lucie Tripon as a journalist.)"Mishima Film Video Sculpture No. 1″, "Mishima Film Video Sculpture No. 2"
"Mishima Film Still", Digital C-Print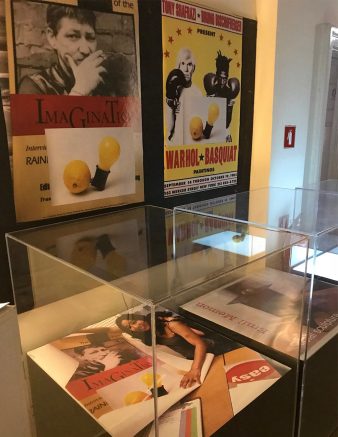 The Lemon Set, series of works, 2015/2019
(After iconic multiple sculpture by Joseph Beuys's he did a year before his death:
Capri Batterie
, edition, 1985.)Object No.7 / Lemon Set + series of posters: No. 1 / Fassbinder/Lemon Set /, No. 2 / Warhol, Basquiat / Lemon Set/, No. 3 / Aalto / Lemon Set /, No. 4 / Mishima/ Lemon Set /, No. 5 / Yuko with a poster / Lemon Set/, No. 6 / Poster Social Skulpture / Lemon Set/ (collaboration with Tobias Putrih).
The Lemon Set was shown for the first time at the History of the World Vol. 2 show which I curated with Kyoko Sato in frame of The Week of Frieze Art Fair in New York, SoHo, NYC, 2015.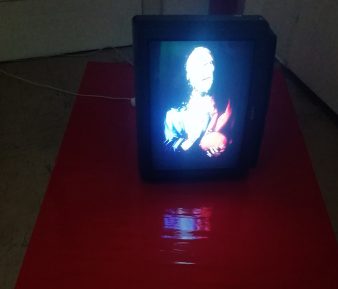 Salvator Mundi, video sculpture (TV, plastika), 2007
Salvator Mundi, a painting by Albrecht Dürer, is in the Collection of Metropolitan Museum in NYC. My video sculpture is from a set of video works I did by using Met's photo library, did research there, using first colour slides they have from the 1930's.
The video sculpture was shown for the first time at the show Loneliness and Melancholy curated by Pawel Wojtasik and Susan Classen-Sullivan, Hans Weiss Newspace Gallery, Manchester College, Connecticut in 2007.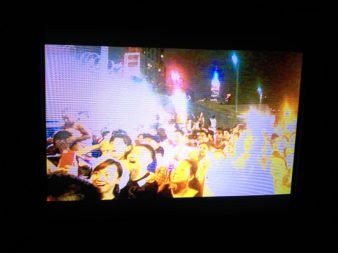 Fireworks / Hot in a Disco, video, 2015
Video consists of dystopian footages of the spectacle of the 4th of July Independence Day celebration on West Side of Manhattan recorded two years in the row. With the glow saturation of the colour it is a reminiscence of a battlefield and of the glow of atomic bomb, or a public spectacle in the historical prints of various victorious kings celebrating their victories. It is also a homage to Kenneth Anger, a very influential filmmaker for me, and his great experimental film Fireworks. The music in the video is a live recording from a rehearsal of Hot in a Disco song with Micah Gaugh and Michael Durek.
.
---
REFERENCES
Joseph Beuys · Andy Warhol · Jean Michele Basquiat · William Blake · Issac Newton · Jože Plečnik · Rainer Werner Fassbinder · Sylvia Plath · Vladimir Memon · Yukio Mishima · Alvar Aalto · Tobias Putrih · Albrecht Dürer · Kenneth Anger
---
ARTIST STATEMENT
"Three Steps to Madness"
The coin of the 'Art World' realm has on one side Andy Warhol and on the other one Joseph Beuys. Between them – Social Sculpture in case of Beuys and 15 minutes of fame and Pop culture on Warhol's end –, they cover more or less the ground on which Visual Art (this term is more and more to narrow) operates. It's sort of an obvious observation but could help in viewing my " Three steps to Madness" at the SCCA-Ljubljana since it interweaves different mediums that lock and disconnect at the same time, inserting arhythmical elements into an otherwise steady beat.
This show/event consists of a few works I produced through years until current work in progress. An important element in it – for me one of most joyful thing in making Art -, is the collaboration with other artists, especially in the music and film elements of the show & working with curators and all who make Artwork and shows possible.
For my "Three Steps to Madness" special thanks to Curator and Art Critic Barbara Borčić.
Emil Memon
---
CV

Emil Memon is a visual artist and musician living in New York and Koper. He studied at art academies in Florence (Academia di Belle Arti – BA in Painting), in Ljubljana (Academy of Fine Art – MA in Spatial Design and Graphic Art) and in New York (MFA in New Forms at Pratt Institute) as a Fulbright scholar.
Creation is a conceptual act for him to promote social consciousness and critical thought. At the same time, as an aesthetic practice characterized by links between different media it works in conjunction with a certain context. With its diverse and multimedia artistic practice, it is tempting modernism and popular culture and with pop aesthetics the logic of capitalism.
---
PHOTO GALLERY
Photo: arhiv SCCA-Ljubljana in Qëndresë Deda
---
PRESS CLIPPING
---
CREDITS
Curator: Barbara Borčić
Tehnical and AV support: Peter Cerovšek
Production: SCCA–Ljubljana, marec 2019
Support: Municipality of Ljubljana – Department for Culture
Thanks: Forum Ljubljana / Strip Core, Škuc Gallery, Glej Theatre, Alkatraz Gallery