Exhibition
19 October – 7 November 2020
Kino Šiška, Trg prekomorskih brigad 3, 1000 Ljubljana
Curators: Miha Kelemina, Lara Plavčak
---
In the exhibition, a part of her project Time Transfusion, intermedia artist Lina Rica continues exploring the contemporary perception of time. She places the collective and personal experience of an individual in today's information society at the forefront, especially in the current epidemic situation, which the world was not ready for.
Our perception of time is fused with memories, feelings, plans and expectations. When the quarantine was introduced, the general uncertainty made it seem that only the present is available to us. Despite the privileged position of those who could stay at home, this "donated" present, which would mean all the time in the world – including free time –, soon proved itself problematic. From home, people were expected to continue their hyperproductivity, not just to work remotely. The result for many was a fusion of work and free time that extended across days and blurred the lines of routines.
The unfamiliar crisis situation demanded a personal psychological toll that remained unaddressed at first, with media culture encouraging hysterical creativity and task completion. Our free time is defined by content; it is still necessary to fill it up, even though it is defined as the unproductive consumption of time. Free time is affirmed as a universal basic human right that has been won, yet is inaccessible to many, as it is dangerous. It is a time for a pause, for reflection, creativity, new energy and new ideas, which can be critical of a particular system or society as a whole.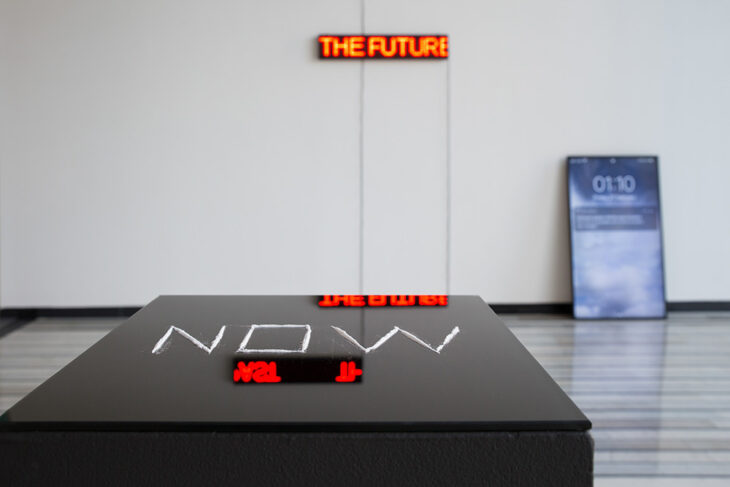 ---

Lina Rica (1980) is an intermedia artist who works in the field of installations, using video, graphic arts, photography, animation and sound. In her work, she discusses the social processes of past and current worlds, and their impact on the individual. In 2008, she graduated in Graphic Arts at the Academy of Fine Arts in Zagreb. She has received several awards for her graphics, which are part of the MGLC, Oficina Arara, Critical Mass and Femicomix Portfolio collections. From 2012 to 2016, she and Boštjan Čadež led the GaleRica gallery space and association for the production and promotion of contemporary art in Makarska. Her video performances have been featured at several festivals and events in clubs and autonomous cultural centres, and she has also collaborated with several artists. Since 2019, she is a member of the experimental audiovisual ensemble Marta Fakuch. Since 2020, she is a member of the audiovisual trio Etceteral. She lives and works in Ljubljana. (photo: personal archive)
---
Photo: Žiga Palčar
---
Organisation: SCCA-Ljubljana and Kino Šiška
Supported by: Municipality of Ljubljana – Department for Culture