With Studio 6 as part of our visual arts program of fourteen years, we continue to test different models of cooperation, present artistic projects and encourage their reflection. In 2017, we prepared two events, one at the SCCA Project Room, and the second traditionally in cooperation with another regional exhibiting venue of contemporary art.
The group exhibition Somethin's Written was the second exhibition project prepared by SCCA-Ljubljana at the Vodnikova domačija Gallery and the sixth project to explore the merging of the written word and image in contemporary art production. As one of the ways of their expression, participating artists Bojan Mijatović, Horrid Habits, Leon Zuodar, Maks Bricelj, Mina Fina and Nevena Aleksovski explore various approaches in combining text and images. They are active in drawing, graphics, painting, photography, assemblages, some are intervening a space with installations and other interventions or are creating artists' books, (fan)zines and similar art publications.
In the Curator's Visit series the artist Dalibor Bori Zupančič and curator Maja Antončič carried out a workshop at the SCCA Project Room, which approached the methods of art therapy through group dynamics. By articulating artistic elements/works/practices/theories, it moved closer to the collective curating of a specific artistic situation and its layout. The implementation didn't directly involve individual psychological analysis, but created an experiment of either artistic or therapeutic manifestations of various actors, both from the art world and by other interested participants.
---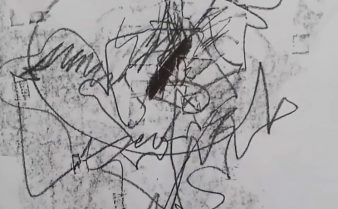 The house where I live has many rooms… or "art therapy contact"
30 November 2017
SCCA-Ljubljana, Project Room, Metelkova ulica 6, Ljubljana
Author: Dalibor Bori Zupančič
Curator: Maja Antončič
Artist talk and workshop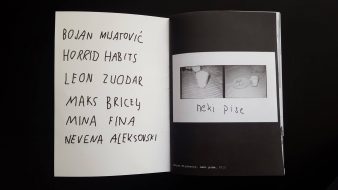 Somethin's Written
2 March – 2 April 2017
Vodnikova domačija Gallery, Vodnikova cesta 65, Ljubljana
Artists: Nevena Aleksovski, Maks Bricelj, Mina Fina, Horrid Habits, Bojan Mijatović, Leon Zuodar
Curator: Lara Plavčak
Advisor: Miha Kelemina
The exhibition was prepared and realized with the help of the participants of World of Art, School for Curatorial Practices and Critical Writing.