Exhibition
13 April – 11 May 2023
Banka Slovenije's Mala galerija (Little Gallery), Slovenska cesta 35, Ljubljana
Opening: Thursday, 13 April 2023, 7 pm
Guided exhibition tours with knnz (Neža Knez), Nice Trick (Kristjan Kovač) and curators Urška Aplinc and Lara Reichmann will occur on Friday, 21 April, at 6 pm and the exhibition's closing day on Thursday, 11 May, at 6 pm. Both guided tours will be held in the Slovenian language.
MGBS's opening hours are Tuesday – Saturday, 11 am – 7 pm.
---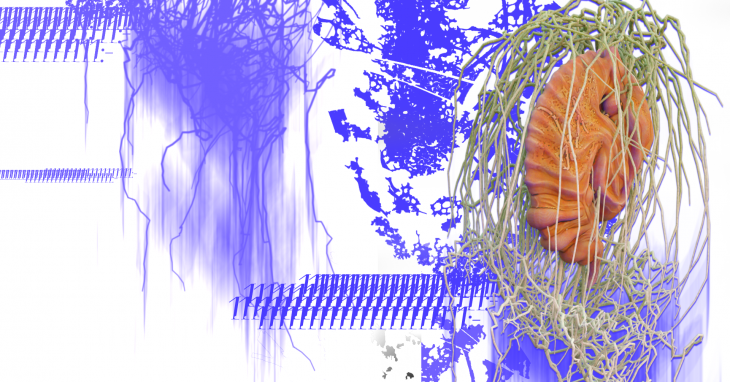 In a world that no longer belongs to humans, the non-human protagonist investigates the remains of humanity and uses a mycelial network to explore, deploy and process the artefacts found. In the process, it creates new hybrid creatures and builds its own museum. The emerging collection resembles those of natural history and art history museums; however, its scientific approach differs significantly from established western research methods, which often have colonialist roots. Through the eyes of the fungus-bio-robot, the installation explores the link between art and science, turning the gallery into a diorama of a possible future. By combining physical and digital reality, the thekidsaren'talright exhibition offers the viewer an immersive experience of the protagonist's world amid the research project.
---
thekidsaren'talright 
Sometime in the future, in a world that no longer belongs to humans (if it ever even has), the abandoned urban infrastructure has been swallowed by nature. Moss, fungi and lichens cover the ruins of abandoned residential, administrative and shopping complexes. The dilapidated walls of former museums, archives and libraries can no longer protect what's inside them. The information recorded in books, hard drives and other media sinks into oblivion as the physical carriers decay. Together with the Western understanding of the world, compost made of paper, wood and even metal is now fertilising the land on which new, non-human information systems are spreading. Densely intertwined mycelium and plant roots have replaced the fibre optic cables buried deep in the ground that used to transmit information from the world wide web.
In this post-apocalyptic world, the random discovery of a box with copies of the Drift Tengoku and Thrasher magazines from the 1990s has led to the creation of a new hybrid form of an archive and life. The magazines have been found by an insectoid cyborg – a fungus-biorobot in the form of an insect that uses its mycelium network to explore, arrange and process the found artefacts and reinterpret the previous life on Earth. Based on the magazines, which focused on the subcultures of automobile drifting and skateboarding, it builds its own museum and creates new hybrid creatures that take care of their own ecosystems and form a complex collection of life forms in which technology is combined with nature. The collection is reminiscent of those at natural science and art history museums; however, the cyborg's non-hierarchical scientific approach differs significantly from the once-established Western research methods, which were rooted in colonialism and exploitation. The dynamic and distorted images of the past created by the biorobot make up a diorama of one possible future – a world without human supremacy and full of potential, in which a series of unusual beings coexist in a harmonic balance.
---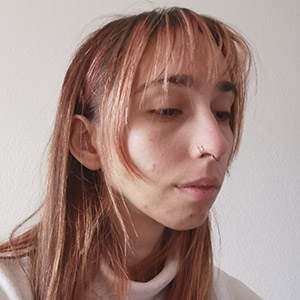 Neža Knez – knnz (1996) is currently completing her MA in Video, Animation and New Media at the Academy of Fine Arts and Design, University of Ljubljana. Her work is multidisciplinary, combining CGI (computer-generated imagery), animation and music. Her artistic practice explores nature, technology and the individual and their interplay. Her work is often presented in the form of video installations and VJ performances, allowing her to show otherwise two-dimensional works in multiple spatial dimensions. She is an active member of the V2V community. She is part of the collective Nimaš izbire, where she works as a VJ and visual artist. In 2020 and 2021, she participated in workshops at the Lighting Guerrilla Festival, and in 2022 she joined the festival with the project Sam si plačilo za vse (You Pay for Everything) in collaboration with Luka Lavrenci. She also exhibited her work in the solo exhibition LivinLaVidaLoca at DobraVaga Gallery (2022) and the group exhibition S03E03: This too shall archive at Kino Šiška (2020). In collaboration with Marko Gavez, she prepared an interactive AR (augmented reality) visualisation for the refurbishment of the exterior of the Kino Šiška Centre for Urban Culture in 2022. (Photo: personal archive)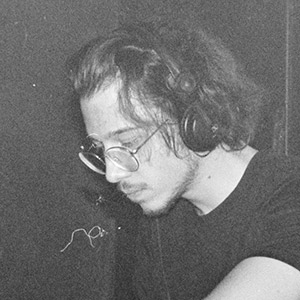 Kristjan Kovač (1999) is a producer and DJ working as Nice Trick. Representative of the new production era breaks the Slovenian rhythmic steadiness with his accomplished jungle. He has released music with local and foreign labels (Honest Work Recordings, SNIF RECS, Scumtapes) and can often be found performing live at the events of the collective Nimaš Izbire. (Photo: Kristina Gradišar)
---
---
PHOTOGALLERY
Exhibition opening
photo: Banka Slovenije's archive
Exhibition view
photo: Banka Slovenije's archive
---
Artist: knnz (Neža Knez)
Curated by: Urška Aplinc and Lara Reichmann
MGBS curator: Vladimir Vidmar
Production: Urška Aplinc (SCCA-Ljubljana)
Sound equipment for the exhibition: Kristjan Kovač (Nice Trick)
Production of cast items and consulting: Tajda Novšak
Technical support: Ana Marija Kanc
Consulting: Lara Plavčak
Special thanks to: Škuc Gallery, RogLab/Center Rog Creative Hub, Rea Vogrinčič, Maj Vogrinčič, Maša Knapič, Ana Likar, Jan Krek, Vesna Bukovec
Organisation: SCCA-Ljubljana, Banka Slovenije's Mala galerija (Little Gallery)
Co-producer: Academy of Fine Arts and Design, University of Ljubljana
Supported by: Ministry of Culture of the Republic of Slovenia, City of Ljubljana – Department of Culture
VR installation sponsor: CtrlArt d. o. o.