19 – 21 May 2022
Slovenian Cinematheque, Cukrarna bar, Slovenian Film Database
---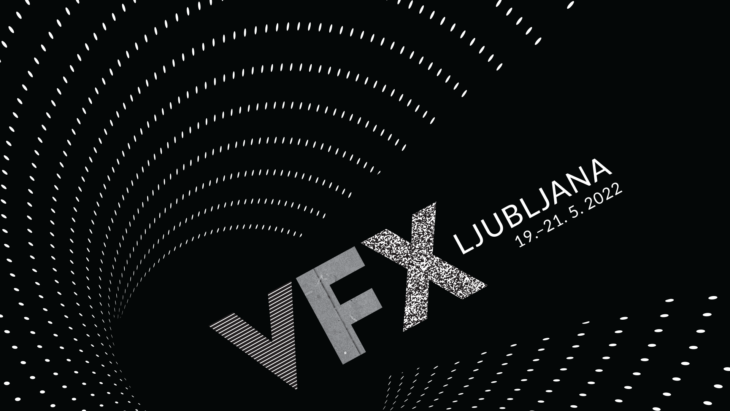 The second edition of the international festival of experimental audiovisual practices V-F-X Ljubljana, organized by SCCA-Ljubljana/DIVA Station and the Slovenian Cinematheque, presents a variety of artistic poetics, research and experimentation in the field of video and film.
We begin with a lecture on the ethics of curating of film and video by the curator and co-director of the European Media Art Festival EMAF in Osnabrück, Katrin Mundt. For the festival occasion, she curated a selection of experimental and essay films under the title Riddles. Marina Kožul, co-director of the 25 FPS experimental film festival in Zagreb, has selected a programme of experimental films Space Dynamics by Croatian female authors of different generations. The retrospective of the renowned Croatian author Vladislav Knežević, who has been creating in the spirit of avant-garde use of film language since 1988, will be presented in two parts. Part of the programme will be shown in stereoscopic 3D projection, and at the VR Point in the Cinematheque café you will be able to immerse yourself in a 360-degree screening of his film Aqualia (2021). We are also preparing a masterclass with the author, intended for young artists and filmmakers. In cooperation with the archive department of the Slovenian Cinematheque, we will present two restored films and early works on 8 mm by Vinko Rozman, one of the pioneers of amateur film in Slovenia. An important part of the festival is the curated programme of secondary school and student films and videos V-F-X: Gen.Z, which will be available via the online platform Slovenian Film Database. The festival will end with a new edition of Luka Prinčič's research AV project. His performance trans.fail/xenotopic.network will premiere at Cukrarna bar and will be followed by socializing with the sounds of DJ Le Berg.
Let's watch Video, Film and eXperiment!
---
PROGRAMME
_____
SLOVENIAN CINEMATHEQUE
Thursday, 19 May 2022
5 pm — Katrin Mundt: Curating Film and Video – A Self-Erasing Lecture, Germany, lecture in English*
7 pm — Space Dynamics, curator Marina Kožul, Croatia, screening
9 pm — Retrospective: Vladislav Knežević, Croatia, screening
Friday, 20 May 2022
5 pm — Vladislav Knežević: Masterclass, in English*
7 pm — Retrospective: Vladislav Knežević, Croatia, screening
9 pm — Riddles, curator Katrin Mundt, Germany, screening
Saturday, 21 May 2022
7 pm — Echoes and Responses by Vinko Rozman, curator Matevž Jerman, Slovenia, screening
_____
VR POINT
Vladislav Knežević: Aqualia VR, Croatia, Cinematheque café during the festival hours*
_____
CUKRARNA BAR
Saturday, 21 May 2022
10 pm — Luka Prinčič: trans.fail/xenotopic.network, Slovenia, AV performance*
11 pm — Le Berg, DJ programme*
_____
ONLINE
Slovenian Film Database, 19 – 22 May 2022
V-F-X: Gen.Z, Selection of student production, Slovenia, curators Vesna Bukovec and Peter Cerovšek*
_____
The ticket price for each screening is € 4,40, according to the price list of the Slovenian Cinematheque.
The box office opens daily one hour before the first screening.
* Free
---
Leaflet (pdf)
---
PHOTOGALERY
Photo: SCCA-Ljubljana archive and Asiana Jurca Avci (Slovenian Cinematheque)
---
Festival programme team: Vesna Bukovec, Peter Cerovšek, Igor Prassel, Varja Močnik
Guest curators: Matevž Jerman, Marina Kožul, Katrin Mundt
Professional Assistance: Miha Kelemina, Lara Plavčak
Visual identity: Vesna Bukovec
Production: SCCA-Ljubljana/DIVA Station and Slovenian Cinematheque
Supported by: Ministry of Culture of the Republic of Slovenia, City of Ljubljana – Department for Culture, Kultura nova Foundation
In partnership with: Goethe-Institut Ljubljana, EMAF, 25 FPS, The Croatian Audiovisual Centre (HAVC), The Society of Croatian Film Directors (DHFR), Emanat, Cukrarna bar, Slovenian Film Database, Academy of Fine Arts and Design Ljubljana, School of Arts, University of Nova Gorica, AVA – Academy of Visual Arts, Secondary School for Design and Photography, Ljubljana, Secondary Preschool Education, Grammar School and Performing Arts Grammar School Ljubljana
Thanks: Multiversum, Ana Čigon, Rene Rusjan, Rok Govednik, Nika Oblak, Sašo Sedlaček, Andrej Kamnik, Sanja Vatić