Exhibition
18 – 25 October 2023
Project Room SCCA, Metelkova 6, Ljubljana
Opening: Wednesday, 18 October, 7 pm
The exhibition will be open every day, except Saturday and Sunday, between 2 pm and 6 pm.
---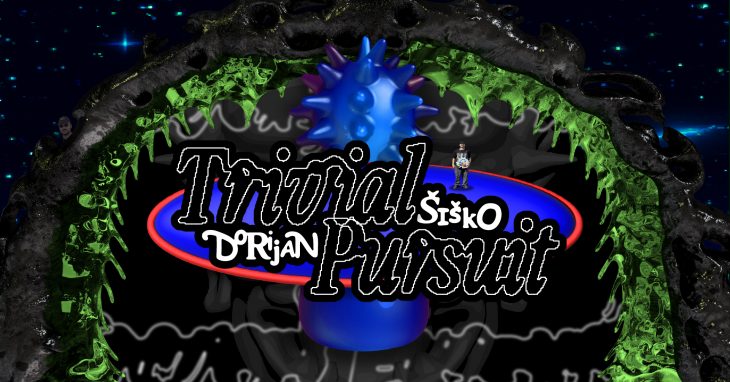 Dorijan Šiško's Trivial Pursuit exhibition continues to build a fictional world that moves between a seemingly unencumbered playfulness and an almost occultist gloominess, constantly expanding, layering, assembling and disassembling as necessary. Its dense, opaque topology mimics the logic of cyberspace and is populated by hybrid characters that combine various elements of post-internet aesthetics. 
Drawing on popular culture, science fiction and graphic design trends, the works address the relationship between digital and material cultures from a fairly cynical distance, attempting to capture the omnipresent uncertainty of our time. The title itself can be understood as a cry to the void, a trivial attempt to exist and navigate our own lives, constantly invaded by images and content that have long since forgotten their message and merely persist in a cycle of recycling and generating new-old trends. How can one survive and create in a world where tangible reality is dissolving into the hypnotic glow of LED screens, where scrolling paralysis and the ever-present anxiety at the thought of the future is crippling our bodies?
With these feelings of disorientation and powerlessness, we sink into a cavernous underground, where an analogue gizmo – a kind of compass on the floor carpet – navigates us through the exhibition. At all times, it is quite unclear whether the void is our starting point or the abyss that swallows up all images and ideas, with vague concepts written on the edges of the fabric slipping out of our hands just when we thought we had a firm grip on something solid. The layering of grotesque figurines, digital 3D models and pseudo-personal notes with an undertone of prophecy follows the principle of the unregulated chaos of digital space, which offers no final conclusions. All of this takes place under the watchful eye of an artist's virtual avatar, who does not take on the role of a guide – as one might expect, but merely observes from a wall projection, waiting for our next step, perhaps even amusing himself along the way.
 The image of the artist also stares back at us from personalised memes that summarise the different feelings and situations that (cultural) workers face. The gesture, which follows the narrative of the proverbially large artistic ego without a good measure of self-irony, allows Šiško, like his avatar on the wall, to laugh in the face of his and our perspectiveless situation. It is funny because it is real. And we can laugh with him for a moment because laughter, albeit bitter, is still better than weeping in this kind of situation.
Lara Reichmann
---
PHOTO GALLERY
Exhibition view, photo: Nika Erjavec
---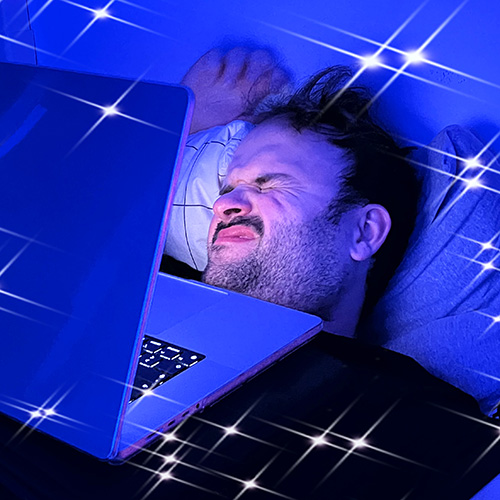 Dorijan Šiško is a multimedia artist and graphic designer whose practice spans the fields of video games, animation, installation, theatre and VJ. His practice investigates speculative, critical, experimental and transmedia aspects of design and art. Through creating visual-theoretical worlds, his work explores themes such as the digital fringe, the dark side of the internet, the future of humanity, tribalism, post-truth, virtual worlds, science fiction and popular culture. His speculative design project TRIBE earned him an MA in Graphic Design with distinction from the Academy of Fine Arts and Design Ljubljana in 2019, where he now occasionally teaches. He is the coordinator and founding member of the art collective Freštreš and a member and visual coordinator of the group Nimaš izbire. His work has been presented at the 34th Ljubljana Graphic Biennial – Iskra Delta, for which he designed and co-curated the musical programme, and at the International Festival KIBLIX 2020-2021, for which he designed the overall graphic design. He has received two Brumen Prizes and the tresk Award. He has exhibited at institutions such as Moderna galerija Ljubljana, MGLC, Cukrarna Gallery, Jakopič Gallery, Cankarjev dom, Aksioma, Osmoza, Kino Šiška, UGM Studio, Centre of Contemporary Arts Celje, Kibla PORTAL, Slovenian National Museum, Out to See Festival in New York, etc. (Photo: personal archive)
---
Curator: Lara Reichmann
Help with 3D animation: Jaka Juhant
Music: Peter Ferlan
Production: SCCA-Ljubljana
Supported by: City of Ljubljana – Department for Culture
Thanks: Froum Ljubljana/Lighting Guerrilla