Exhibition
16 – 20 August 2022
Project Room SCCA, Metelkova 6, Ljubljana
FeKK – Ljubljana short film festival
Opening: Tuesday 16 August, 7pm (Entrance from the museum platform)
Opening hours: Tuesday – Saturday, 7pm – 10pm
---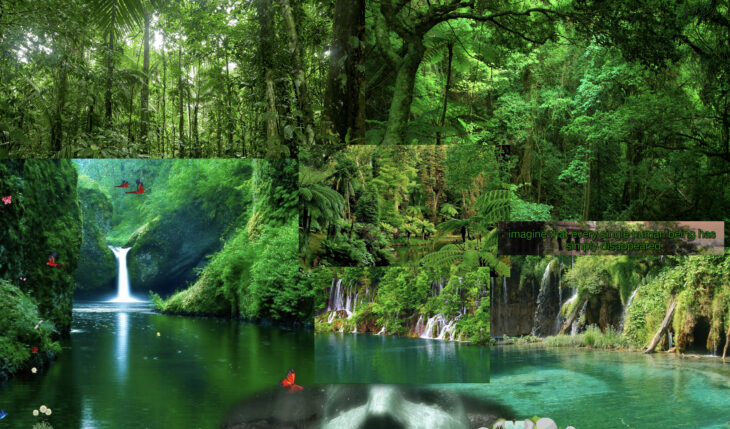 The second exhibition collaboration between SCCA-Ljubljana and FeKK will transform the Project Room SCCA space into the definitive covid meme Nature is Healing. The post-lockdown momentum to make up for lost time, the restart of the economy, the return of fomo and yolo, made the witty new joke, which deep down revealed our naive hopes that nature would save itself after all, to suffocate even before it could breathe a little cleaner air.
With her work www.s-n-d.si at last year's FeKK, Sara Bezovšek convinced the jury and received the Grand Prix award, and above all shocked the audience with impressive images of the terrible consequences of environmental destruction and the endless possibilities of our extinction. Most people, faced with a catastrophe in sight, rather than seeking a solution in a change of lifestyle, decide to repeat the cycle of denial and escape into their own everyday microcosm of meaning, instilled in us by the capitalist system.
For the duration of the festival, the Project Room SCCA will become an exhibition space and an installation that will take us from artist's most recent projects to her early works, from speculative to virtual reality, from nature to atomic winter, all in the style of scrolling that the artist uses for storytelling and dramaturgy in her online projects. The visitor will be confronted with the contrast between solutions and disasters, utopias and dystopias, and with the ultimate question of whether there is still a way out. There is! Through the window to the Museum platform to the FeKK festival!
Peter Cerovšek
---
PHOTOGALLERY
Exhibition opening
photo: Asiana Jurca Avci
Exhibition view
photo: FeKK archive
---
Sara Bezovšek (1993) is a visual artist, active in the fields of new media, experimental film and graphic design. Her artistic practice is characterised by the exploration, collection and storage of mostly pop-cultural visual references from various online platforms, films and TV series. Using the cut/copy-and-paste technique, she combines the found digital material into web pages, collages, mashup videos, etc., thus creating new narratives through appropriation. Since 2018, she has had several group and solo exhibitions. She also received the student Prešeren award, participated in the Kiblix festival, The Wrong Biennale and exhibited in the online gallery Feral File. In 2021, she received the main award at the FeKK festival for her short film www.s-n-d.si, and this year she was nominated for the OHO group award. She participated at BIO27 with the Garnitura group, and her SND project was presented on the Do Not Research online platform.
---
Curator: Peter Cerovšek
Professional assistance: Vesna Bukovec, Lara Plavčak
Organised by: SCCA-Ljubljana, Kraken Association
Supported by: Ministry of Culture of the Republic of Slovenia and City of Ljubljana – Department for Culture
Sponsored by: University Botanic gardens Ljubljana
Partners: Aksioma, Škuc Gallery, Kibla, MG+MSUM, KUD Mreža/Alkatraz Gallery, Forum Ljubljana
Thanks: Tomaž Kučer, Miha Zupan