Presentation of the project and cooperation
Friday, 2 June 2023, 4 pm 
SCCA Project Room, Metelkova 6, Ljubljana
---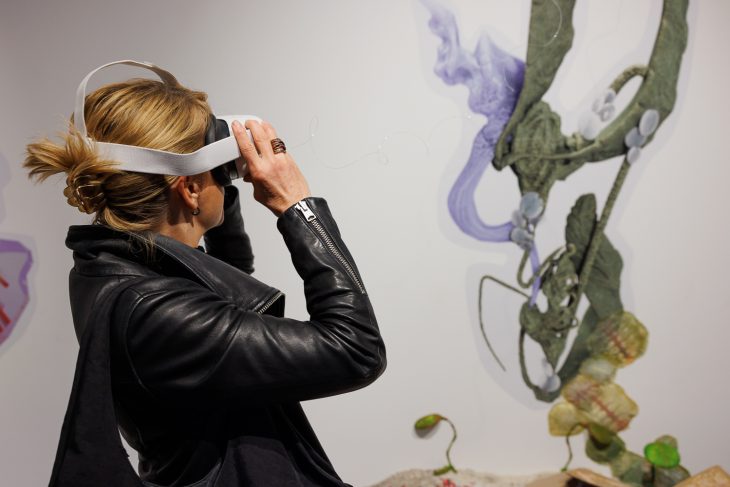 We present the VR installation at the centre of the knnz (Neža Knez) exhibition project, thekidsaren'talright, which CrtlArt helped develop.
In the exhibition project, which was on display at the Mala galerija Banke Slovenije from 13 April to 11 May 2023, the non-human protagonist investigates the remains of humanity and uses a mycelial network to explore, deploy and process the artefacts found. The VR installation offers the viewer an immersive experience of the world somewhere in the future that no longer belongs to humans. More about the project and the exhibition.
At the event, the artist will present her project, the process of developing the idea and designing the VR environment. The CEO and founder of CtrlArt, Nadav Sagir, and his team will discuss how they collaborated on the project while introducing some of the other projects and services in which the company has partnered with various cultural institutions in Slovenia and abroad. The event will be an opportunity to get up close and personal with the artist, check out the VR installation and discuss the use of VR and XR (extended reality) strategies in art. The event will be held in English.
---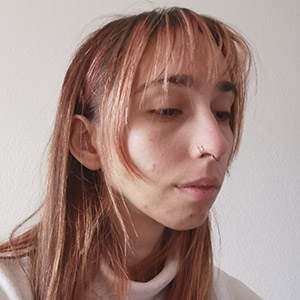 Neža Knez – knnz (1996) is currently completing her MA in Video, Animation and New Media at the Academy of Fine Arts and Design, University of Ljubljana. Her work is multidisciplinary, combining CGI (computer-generated imagery), animation and music. Her artistic practice explores nature, technology and the individual and their interplay. Her work is often presented in the form of video installations and VJ performances, allowing her to show otherwise two-dimensional works in multiple spatial dimensions. She is an active member of the V2V community. She is part of the collective Nimaš izbire, where she works as a VJ and visual artist.
CtrlArt has been pushing the boundaries of visual design for over 15 years. Their work strives for creative cooperation between people from different cultures and backgrounds, leading to a mixture of ideas and talents, always finding new solutions to old challenges. They create immersive experiences that blend augmented reality and 3D design.
---
Free entry.
Organisation: SCCA-Ljubljana, CtrlArt
Supported by: Ministry of Culture of the Republic of Slovenia, Municipality of Ljubljana – Department of Culture