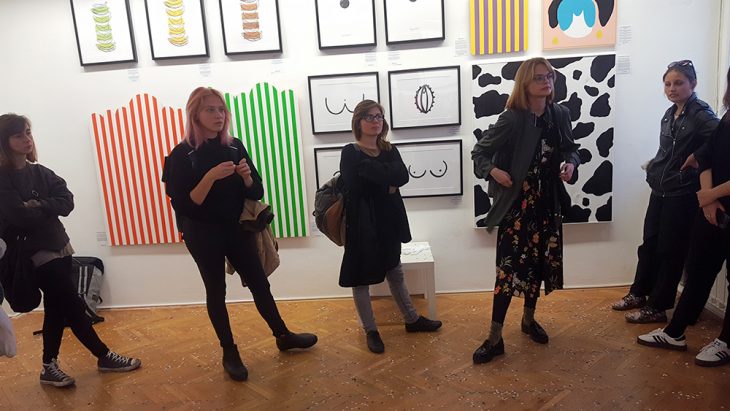 We have successfully concluded the first year of the 17th generation of the World of Art, School for Curatorial Practices and Critical Writing. From October 2018 to June 2019, the school participants Tajda Češarek, Tia Čiček, Kristina Ferk, Katja Filovski, Tisa Neža Herlec, Lara Mejač, Neža Pavšič, Anja Seničar and Rea Vogrinčič have participated in several school modules. Tjaša Pureber, Saša Nabergoj and Tevž Logar have presented cultural politics in Slovenia and talked about differences and similarities between Slovenian and international art system. Dušan Dovč and Ines Kežman have outlined means and institutions that enable financing exhibitions and projects of contemporary art at the local, national and international level. Modul Writing About Contemporary Art consisted of workshops and seminars by Lenart J. Kučić, Lara Plavčak, Miha Kelemina, Asta Vrečko and Barbara Borčić. Gregor Moder has made an introduction in theory of contemporary art. Practical insight into the curatorial work was acquired in the framework of the Curatorial Mapping with Jasna Jernejšek and the Exhibition Reading with Vladimir Vidmar. As part of the meetings Curatorial Research participants prepared their virtual exhibitions. We have visited Škuc Gallery, Moderna galerija+MSUM, MGLC and Švicarija, Aksioma Project Space, P74, City Art Gallery, Vžigalica Gallery, organized a study excursion to Graz, artist talk with Robertina Šebjanič and meetings with curators in residence Lawinia Rate and Anton Valkovsky.
Participants collaborated in conception and realization of exhibitions organized by the SCCA-Ljubljana. At the end of semester we have prepared an annual school exhibition control < cultivate > evolve. Soros Center for Contemporary Arts – Ljubljana (1993–1999). Its Organisation and Impact, curated by Miha Kelemina and Jasna Jernejšek with the help of the participants. In co-production with Kino Šiška, exhibitions by Max Grau and Staš Vrenko were organized.
The second year (September 2019–June 2020) will be dedicated to curatorial and critical studies and practical work. The programme will include regular meetings with tutors Alenka Gregorič and Miran Mohar, studio visits, curatorial mapping, seminars, research work, and modules on practical work and the conceptualisation of the exhibition. Participants will conceptualize and realize their final exhibition which will open on 14th May 2020 at the Škuc Gallery in Ljubljana. In 2019 we are preparing a series of lectures and workshops on the history of (new) media art in Slovenia and broader region prepared in collaboration with Igor Zabel Association for Culture and Theory, Goethe Institute, Balassi Institute and ŠUM collective. World of Art school is also a partner in the international project World Around Us, dedicated to art criticism in the region. We are planning multiple events and a bilingual publication.