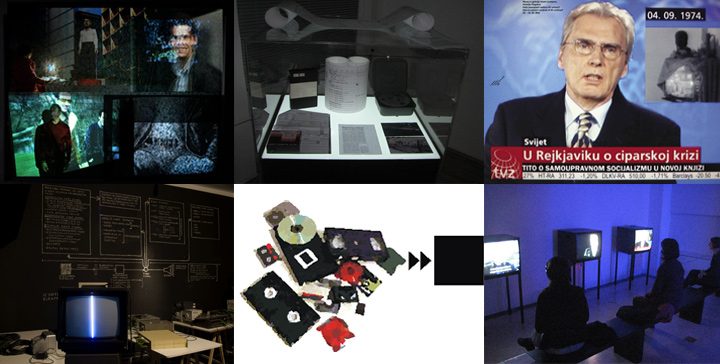 A series of projects with the Archiving Practices are discussing the issue of the production and dissemination of video (& new media) archives on a practical and theoretical level.
To emphasise the meaning of audio visual archives and their accessibility we conduct research, curate exhibitions and organise educational seminars on the topic of "practices of archiving video and media art" in order to present the local circumstances, compare them to successful international practices, and establish long term collaborations. At the same time, we have also examined our own archival projects and international platforms.
We work on the premises that in the present day documentation and archiving are necessary for the understanding of contemporary visual and media art praxis. Establishing archives, promoting their use, accessibility, dissemination and defining their ownership are important questions that are still not sufficiently exposed in the Slovenian cultural environment. We have set ourselves a task to present significant archival models (experimental, systematic, partial) that are already in use, to address and promote their functionalities and mutual interconnections.
Furthermore, we wish to support and promote the praxis of open and constructive exchange and emancipated work by the artists in the system of contemporary art. We believe that important part of this system, are also post-production processes (documentation, archiving, dissemination) and independent production of individual archives, that include availability and visibility of their presentation materials.
---
Within the theoretical and practical engagement with archives we strive:
To establish a platform for preservation, presentation and dissemination of the audiovisual contents (contextual level).
To trigger the institutional change, i.e. to make possible the inclusion of the audiovisual/video archives under the sector of the national cultural heritage (political level).
To present models and means of preservation, presentational strategies and possibilities of dissemination (theoretical level).
To educate the artists in production of digital archives and to inform them about the models of archiving for the purposes of storage or presentation and dissemination (practical level).
---
PROJECTS