Screening of a new curated video programme from the DIVA Station archive
15 December 2021, 7 pm
Simulaker Gallery, Vrhovčeva ulica 1a, Novo mesto
---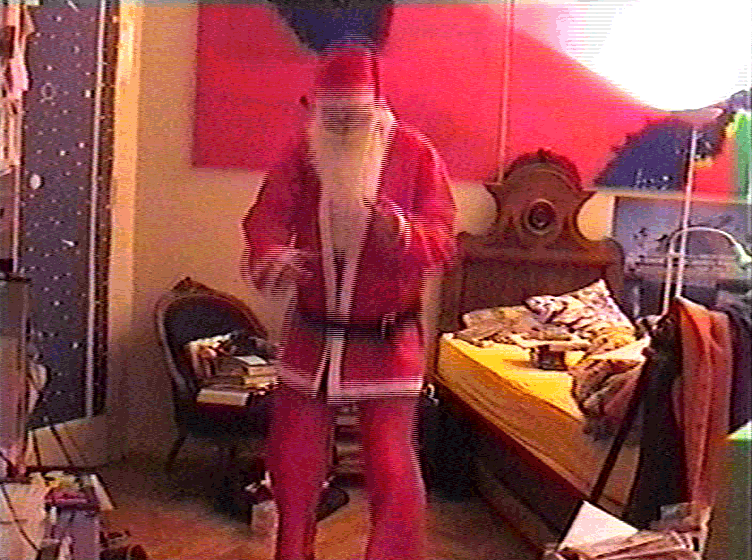 The programme is the result of a collective selection of videos and films from the DIVA Station archive, which was prepared especially for the Simulaker Gallery at the end of the second year of the corona period by the SCCA-Ljubljana team. In it, we included playful and sarcastic works with a distinct creative imagination, which at times flirts with the absurd. The end of the year is a time of joyful celebration and a time when we proverbially look to the past and imagine the future. We live in a time when reasons for optimism and joy need to be re-invented over and over again, which could be the task of this selection of moving images as well.
Attending the screening is permitted only with a negative PCR or RAT test result or a medical certificate of recovery or vaccination.
---
PROGRAMME
Happy and merry …

Artists: Ana Čigon, Nataša Berk, Mladen Stropnik, Nataša Skušek, Zvonko Čoh & Milan Erič, Ana Nuša Dragan, Keiko Miyazaki, Sašo Vrabič, Sašo Sedlaček, Tomaž Furlan
Curators: Lara Plavčak, Vesna Bukovec, Peter Cerovšek
Duration: 46 min
---



DIVA Station is an online and physical archive that SCCA-Ljubljana has been developing since 2005 with the aim of researching, documenting, archiving and presenting art film, video and new media art. It is based on collecting video material within a wider national context and includes artists who work in Slovenia and/or abroad.


Videospotting is a series of curated programs of video art in Slovenia produced and presented by SCCA-Ljubljana in solo screenings, exhibitions, lectures, and at international festivals, exhibitions, meetings.
---
Organisation: Adrijan Praznik
Production: SCCA-Ljubljana / DIVA Station and Simulaker Gallery / LokalPatriot
Supported by: Ministry of Culture, Municipality Novo mesto
SCCA-Ljubljana is supported by City of Ljubljana – Department of Culture and Ministry of Public Administration.