Retrospecitve exhibition
17 – 21 August 2021
Project Room SCCA, Metelkova 6, Ljubljana
FeKK – Ljubljana short film festival
Opening: Tuesday 17 August, 7.30pm
Opening hours: Tuesday – Saturady, 8pm – midnight
---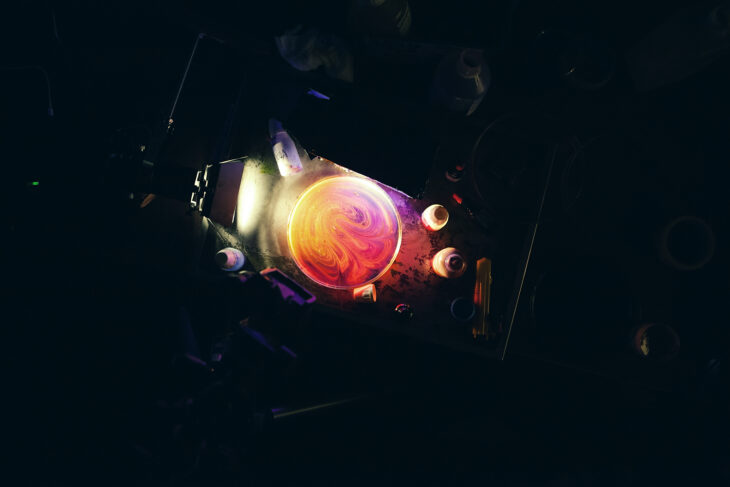 The first retrospective exhibition of the work of the duo IZLAND, composed of Gašper Milkovič Biloslav and Marko Vivoda, is designed specifically for the SCCA Project Room at Metelkova 6, where the recordings of AV installations, live performances and music videos created over the past nine years in collaboration with various electronic, contemporary and classical music artists will be on display throughout the duration of the FeKK International Short Film Festival. The installation presents lab loops, partial reconstructions of the production of individual projects, and thus an insight into the processes of creating hypnotic analogue visualizations based on chemical reactions of mixing liquids and solutions of different densities, experimentation with electromagnetic waves and the effect of sound on matter, as well as the manipulation of video signals.
The four "stations" installation also addresses the question of archiving an artistic practice based on the ephemerality of live events and interactive installations bound to time and sound. With IZLAND, the video recording represents only half of the complex creative use of technologies, which provides a unique opportunity to satisfy our curiosity by offering a glimpse into the making of the visuals presented at the exhibition itself. The exhibition includes archival footage of various live AV performances, visuals for the album π (2017) by Random Logic, the video Puščava (2017) by ŠKM Banda and the trilogy of the band Srečna mladina, made in collaboration with Matej Kolmanek: Napovednik, Comadia sp., Trampolin, infrastruktura (2018).
---
As per the thoughts of the poet Karlo Hmeljak regarding their work:
The way in which Izland […] creates the visual landscapes is fundamentally a testament to the insufficiency of any sort of dualism in understanding the optical experience to which we are exposed in their work. Classifications of the type: analogue/digital, real/virtual, concrete/abstract, are perverted and allow the viewer not to have to choose, as both are contained within the singularity of the perceived. The images that we witness and which astonish us with the incredulity, measure precisely that component of the visible which we can call wonder, as we do not initially find a referential support for the recorded material. Hence beauty, hence the definition of vision (a visual perception without a factual basis), as what is seen cannot be placed in any familiar register. At least until we observe certain elements, little irregularities, which are able to place a particle of the visible surface in the horizon of the object.
---
IZLAND are Gašper Milkovič Biloslav and Marko Vivoda. During their live performances, they develop innovative forms of VJing, based on analogue experience, and explore the creation of abstract visual realities while simultaneously experimenting with various analogue techniques. They specialise in an analogue approach that gives a visual impression of the digital.
---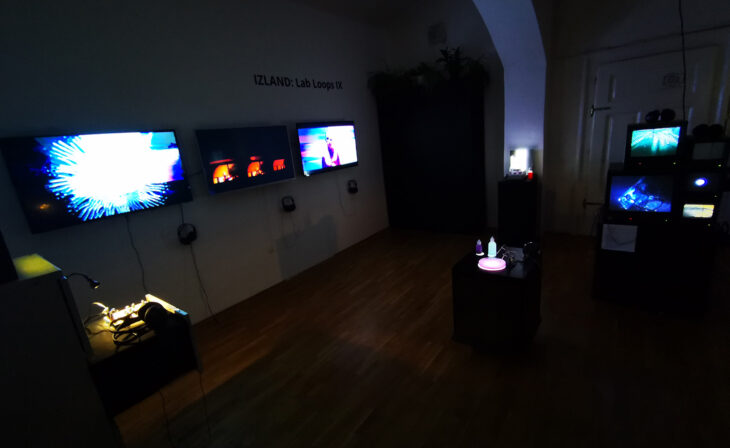 ---
PHOTOGALLERY
Exhibition opening, poto: Asiana Jurca Avci and SCCA-Ljubljana archive
Exhibition view, photo: SCCA-Ljubljana archive
---
Curators: Vesna Bukovec, Peter Cerovšek
Produced by: SCCA-Ljubljana/Postaja DIVA, Kraken Association
Supported by: Municipality of Ljubljana – Department of Culture, Ministry of Culture, Ministry of Public Administration
Thanks: Škuc Association, Cona Institute, Ljudmila Association, Forum Ljubljana, Slovenian Cinematheque, PiNA Association, Miha Zupan