Book reading and talk
Thursday, 29 June 2023, 6 pm
Škuc Gallery, Stari trg 21, Ljubljana
---
---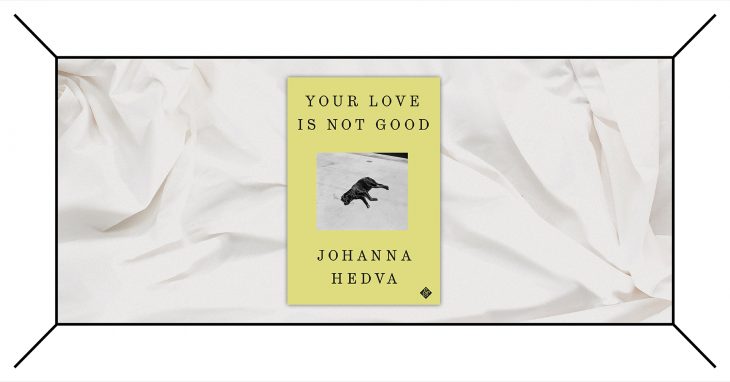 Image description: Photo of a book on a white wrinkled bed lining. On the front cover is the title Your Love Is Not Good and a black and white photograph of a dejected-looking black labrador lying on concrete. The color of the novel background is a sick snot-like yellow-green. The photo is surrounded by a frame made of a thin black line and a white border. (Image description of the book cover prepared by Johanna Hedva.)
---
The artist, writer and musician Johanna Hedva, who is participating in the Sick exhibition at Škuc Gallery, presents their new novel Your Love Is Not Good. In the novel, which was published in May this year, Hedva deals with power relations in art, where the unnamed narrator, a queer Korean American artist, reckons with the politics of race and marginalisation while trying to navigate the art world in which her ethics are tested regularly. Blending personal trauma, desire, professional ambition and calls to decolonise art institutions, the novel "stuffs queer explosive into the cracks between identity and aspiration, between desire and art, and revels in the raining debris." Artist Harry Dodge called it "a major achievement," and frieze magazine said it is "a gripping, tightly plotted novel characterised by a trenchant exploration of race, queer desire, and power dynamics in the art world."
The presentation and book excerpt reading will be followed by a discussion moderated by Suzana Tratnik. Hedva and Tratnik will address how political efforts can be thought about in many ways, in different genres and forms. They will touch upon the problem of access and marginalisation in art, and talk about Hedva's practice – particularly what the project of fiction has afforded Hedva in their own political work in accessibility and disability activism.
The book was published by And Other Stories. Your Love Is Not Good will be sold along with some of the author's other books at the event. Books will be available for purchase after the event at Azil Bookstore (ZRC SAZU), Novi trg 2, Ljubljana.
---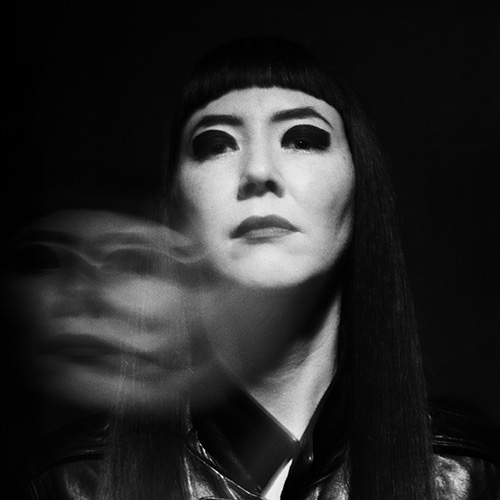 Johanna Hedva is a Korean American writer, artist and musician, who was raised in Los Angeles by a family of witches, and now lives in LA and Berlin. Hedva is the author of the novels Your Love Is Not Good and On Hell, as well as Minerva the Miscarriage of the Brain, a collection of poems, performances and essays. Their albums are Black Moon Lilith in Pisces in the 4th House and The Sun and the Moon. Their writing has appeared in Triple Canopy, frieze, The White Review, Topical Cream and Spike, and is anthologised in Whitechapel Documents of Contemporary Art: Health. Their work has been shown in Berlin at Gropius Bau, Haus der Kulturen der Welt, Klosterruine and Institute of Cultural Inquiry; The Institute of Contemporary Arts in London; Performance Space New York; Gyeongnam Art Museum in South Korea; the LA Architecture and Design Museum; the Museum of Contemporary Art on the Moon; and in the Transmediale, Unsound and Rewire Festivals. Their essay Sick Woman Theory, published in 2016, has been translated into 11 languages. (Photo: Ian Byers-Gamber)
Image description: Black and white portrait of a white person where an apparition of their face hovers to the lower left, connected by a trail of pneuma. (Image description prepared by Johanna Hedva.)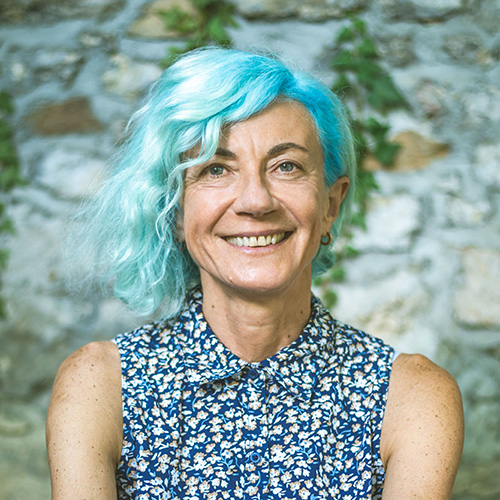 Suzana Tratnik holds a BA in Sociology and an MA in Gender Anthropology. She lives in Ljubljana and works as a writer, translator and essayist. She co-founded Škuc-Lezbična sekcija LL (Škuc-Lesbian section LL) and is a programmer for Ljubljana's LGBT Film Festival. Tratnik has published seven collections of short stories: Pod ničlo (Below Zero, 1997), Na svojem dvorišču (In One's Own Backyard, 2003), Vzporednice (Parallels, 2005), Česa nisem nikoli razumela na vlaku (Things I've Never Understood on the Train, 2008), Dva svetova (Two Worlds, 2010), Rezervat (Reservation, 2012) and Noben glas (No Voice, 2016), six novels: Ime mi je Damjan (My Name is Damian, 2001), Tretji svet (Third World, 2007), Tombola ali življenje! (Bingo or Life!, 2017), Norhavs na vrhu hriba (Madhouse on the Hilltop, 2019), Pontonski most (The Pontoon Bridge, 2020) and Ava (2021), as well as some expert works on lesbian literature and activism. She is the recipient of several literary awards. Her books and short stories have been translated into more than twenty languages. She has translated into Slovene several British and American fiction and non-fiction books. (Photo: Katarina Kolenc)
Image description: Portrait of a smiling woman with short, slightly wavy light blue hair, parted on the side, and blue eyes. She is wearing a dark blue sleeveless shirt with a floral pattern.
---
Free entry.
The event will be in English, accompanied by an interpreter for Slovenian sign language. Part of the talk will be equipped with subtitles in English.
As we want to make the visit to the exhibition safe also for people with compromised immune systems, we recommend the use of protective masks.
Seats with backrests will be available.
Visiting
Škuc Gallery is equipped with a ramp for persons with reduced mobility at the entrance (width 150 cm) and in the space (width 106 cm). The inner courtyard and the toilets of the gallery are not accessible to wheelchair users. Accessible toilets are available in the restaurant Druga Violina next door. Please contact the restaurant staff for assistance. The toilet in the gallery is gender-neutral. Free tap water is available. The gallery is not equipped with a hearing loop. Dogs are welcome. The staff can provide a bowl of water for them.
Arriving
The nearest bus stop to the gallery is Gornji trg (180 m), where bus lines 2, 3, 11, 19 and 27 stop. More information is available on the LPP website or by calling LPP (+386 1 582 2425, +386 51 449 992). Most buses are equipped with a ramp, but we still recommend that you call LPP to inquire about the accessibility of the bus during your time slot. The gallery is in the pedestrian zone in the centre of Ljubljana. The nearest driveway for cars is 50 m away. The streets in the immediate vicinity are paved. You can catch a ride with the free Kavalir vehicle service in the pedestrian zone, which can be ordered from 6 am to 10 pm by phone (open vehicles: +386 31 666 331, +386 31 666 332; closed vehicles: +386 31 666 299). Vehicles are not accessible for wheelchair users. The nearest payable car park with disabled parking (8) is NUK II. near Emonska cesta (500 m), the nearest disabled car park (1) for short-term parking is at Levstikov trg (100 m). For more information, contact JP LPT (+386 1 300 1200). A map of the accessibility of locations in the centre of Ljubljana and other useful information is also available on the website of the Slovenian Paraplegic Association.
---
The lecture is part of the accompanying events of the exhibition Sick at Škuc Gallery (21 June – 18 July 2023).
More about the exhibition.
---
Organisers: World of Art/SCCA-Ljubljana, Škuc Gallery, Azil Bookstore (ZRC SAZU)
The World of Art school programme is created in partnership with Cukrarna/MGML.
Cover image: Lea Jelenko
Partners: Inter-Municipal Association of the Blind and Visually Impaired Nova Gorica, Riso Paradiso, Druga violina
Sponsor: DIOPTA, d. o. o., Ljubljana
Supported by: Ministry of Culture of the Republic of Slovenia, City Municipality of Ljubljana – Department of Culture, ifa (Institut für Auslandsbeziehungen)