Artist talk and presentation of works
Wednesday, 22 November 2017, 6pm
Project Room SCCA, Metelkova 6, Ljubljana
Video instalation will be on view until 27 November.
---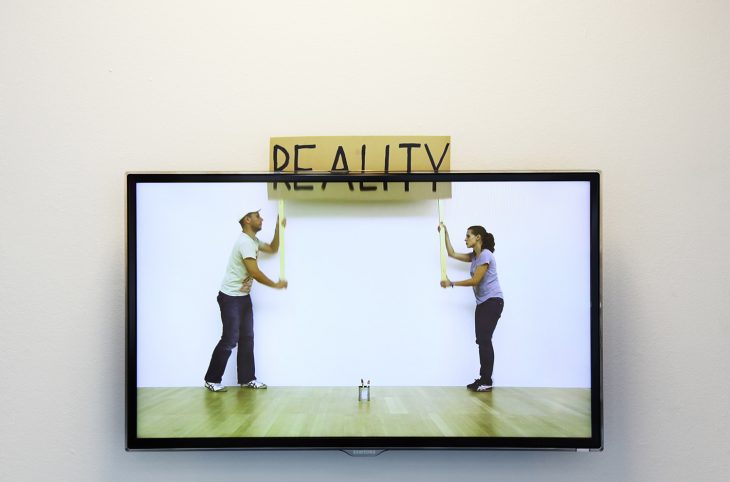 Nika Oblak & Primož Novak will be hosted at the SCCA Project Room as a part of the No Nails, No Pedestals series. The artist's duo will present their current production focused on issues concerning our existence and its relation to technological progress.
They will exhibit their kinetic video installation Reality Is Out that combines video performance, pneumatic mechanism and the actual cardboard sign which appears as if leaving the video frame and literally entering the exhibition space.
The work is a continuum of the artists' exploration of the relationship between reality and fiction.
---

Nika Oblak & Primož Novak have been working as an artist's tandem since 2003. They studied at the Academy of Fine Arts in Ljubljana, Slovenia and at the Universitaet der Kuenste in Berlin.
Nika Oblak & Primož Novak on DIVA Station archive
---
Foto: SCCA-Ljubljana archive
---

No Nails, No Pedestals 2017 (Project Room SCCA, Metelkova 6, Ljubljana) is presenting authors, working in the field of contemporary artistic practices (installations, performances, video, interdisciplinary & web projects).
The artists can present their works by using different media and program tools for presentation on computer screens, television sets and wall projections. The audience is encouraged to reflect the works and intervene in the discussion, thus adding to the interpretational level of artistic practices with their feedback.
Invited artists in 2017:
Irena Tomažin, Kent Chan (Singapore), Yunnia Yang (Taiwan), Nika Oblak & Primož Novak
---
Production: SCCA–Ljubljana
Supported by: City of Ljubljana, Department for Culture