Full night artistic research event – from dusk till dawn
Saturday, 19 November 2022, 6 pm
Duration: 12 hours (6 pm – 6 am)
Škuc Gallery, Stari trg 21, Ljubljana
---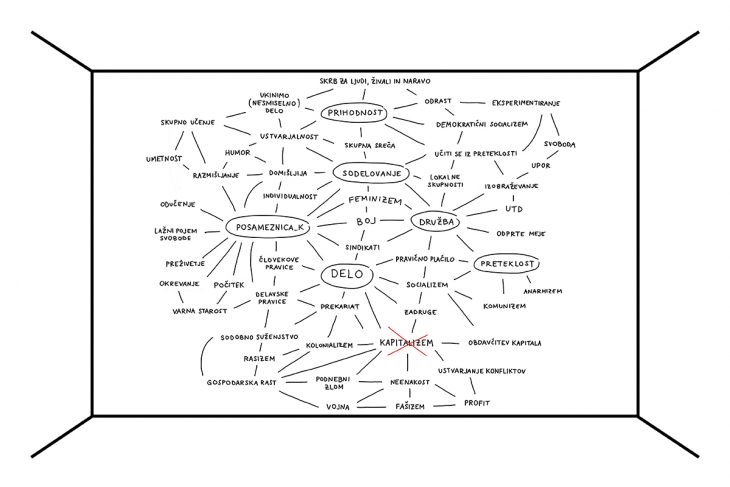 The event is part of the exhibition Work in Progress. Reflections on Communities Beyond Capitalism (10 November – 8 December 2022) in which participates Vesna Bukovec, Tia Čiček, Ana Čigon, Andrea Knezović. The library SCCA-Ljubljana also participates in the event with a selection of books and catalogs.
---
The artistic research event – an exercise in institutional disruption – Nocturnalities: Bargaining Beyond Restdeveloped is created and will be moderated by artist and researcher Andrea Knezović in collaboration with curator Tia Čiček. The event explores the intersection between cultural production, cognitive capitalism, the politics of sleep and its psycho-cultural implications. The event is an interruption of the regular programme of Škuc Gallery – a nocturnal procession of various habits, artistic research and non-formal knowledge exchange. It looks at sleep and consequently rest through the performative forms of work – highlighting their communal impact, temporal boundaries and mythological heritage. For the one-night event – from the evening to the morning of 19 November – Škuc Gallery will become a podium for experiments, round tables, performative readings and various screenings.
Nightly programme:
18.00 – Opening of the event & introduction to the CEE Art Catalogue Archive of the Center for Contemporary Arts SCCA–Ljubljana.
19.00 – A panel conversation Nocturnalities: Re-imagining Art Work in the Age of Awake with professor Katija Praznik, artist Andrea Knezović, Vesna Bukovec, Ana Čigon, and curator Tia Čiček.
– The panel conversation will reflect the politics of sleep and consequently rest through the framework of cultural labour.
21.15 Film screening The Man Who Sleeps (original: Un homme qui dort), 78′.
Directed by Bernard Queysanne and Georges Perec, based on Perec's 1967 novel Un homme qui dort).
23.30–06.00 Bargaining Beyond Rest Reading Group
– A brief online conversation with the author of the book 24/7: Late Capitalism and the Ends of Sleep professor of Modern Art and Theory at Columbia University Jonathan Crary.
– An all-night reading group of the book 24/7: Late Capitalism and the Ends of Sleep: The participants can rest in the gallery space while exploring realms of late capitalism and 24/7 nocturnal labour. We invite the public to join us and test their limits in nocturnal endeavours as they lounge comfortably in the gallery, sipping tea and nibbling on some snacks while brainstorming and unfolding propositions around the politics of rest.
More about the event and exhibition.
---
Production: Galerija Škuc
Partner: SCCA-Ljubljana
Thanks: Društvo ŠKUC, Elvis Krstulović, Iva Kovač, Jadranka Vesel, Jonathan Crary, Katja Praznik, Knjižnica REČI, Kristina Božič, Ksenija Vidmar Horvat, Maša Hawlina, Mesto žensk, Miha Kelemina, Mirovni inštitut, Mojca Senegačnik, Prostorož, Stripburger, Svetlana Slapšak, Tanja Petrović, Tea Jarc, Tina Podbevšek, Urška Aplinc, Vasja Progar, Založba /*cf, Založba Sanje, Založba ZRC, Založba Sophia, Zavod TransAkcija