24th International Feminist and Queer Festival Red Dawns
Talk
Tuesday, 27 June 2023, 7pm
SCCA Project Room, Metelkova 6, Ljubljana
---

SCCA is hosting the event in the frame of 24th International Feminist and Queer Festival Red Dawns.
---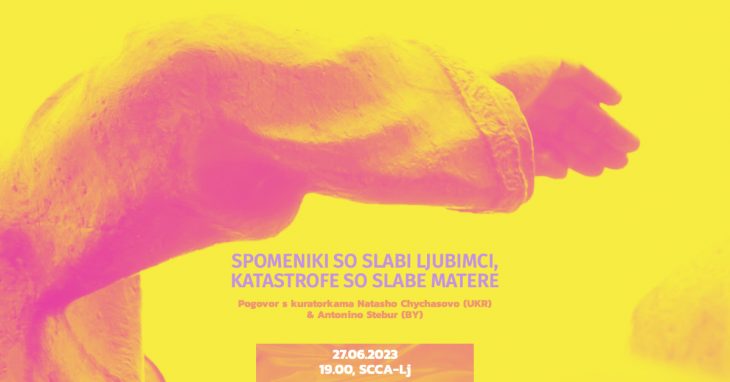 Warmly welcome to a talk and get-together with Natasha Chychasova and Antonina Stebur from the Anti-War Art Coalition. Antonina Stebur and Natasha Chychasova come together in a thought-provoking discussion titled "Monuments are Bad Lovers, Catastrophes are Bad Mothers." The conversation takes its title from the work of Ukrainian artist Dana Kavelina "There are no monuments to monuments." Drawing from their own experiences as individuals affected by war, displacement, and uprisings, Antonina Stebur and Natasha Chychasova Chychasova delve into complex colonial dependencies, resource exploitation, and also how the imperial imagination is connected with the real infrastructures of production, extractivism, grain logistics, oil transportation in the face of a full-scale Russian invasion of Ukraine.
---
Natasha Chychasova je kustosinja in raziskovalka iz Donecka s sedežem v Kijevu. Ukvarja se s postsovjetsko dediščino in strategijami za njeno dekonstrukcijo ter feminističnimi umetniškimi praksami. Chychasova je diplomirala iz magistrdkega programa umetnostne zgodovine na Nacionalni univerzi Tarasa Ševčenka v Kijevu. Trenutno dela kot vodja oddelka za sodobno umetnost v Nacionalnem muzejskem kompleksu umetnosti in kulture »Mystetskyi Arsenal« v Kijevu. Njeni kuratorski projekti vključujejo: Finally, we're here!(Gorzów Wielkopolski, Poljska, 2019); By memory (Odesa, Ukrajina, 2019); This is not a museum, this is a plant(Dnipro, Ukrajina, 2020), Non-Human trilogy (Kijev, Ukrajina, 2020); Letter To Mother (Kijev, Ukrajina, 2020), Silence féminin (2020-2022), Ukraine Burning platform (2022), Heart of Earth (2022), Forms of present (2023). Njeni članki so bili objavljeni v revijah Your Art, ArtsLooker, reviji ŠUM, reviji Blok in v Spaika media.
Antonina Stebur je kustosinja, umetnostna zgodovinarka in likovna kritičarka. Deluje kot gostujoča predavateljica na Berlinski univerzi za umetnost (UdK), kjer poučuje predmet Umetniški aktivizem. Je soustanoviteljica projekta #damaudobnayavbytu o spolni diskriminaciji v postsovjetskih državah in raziskovalne platforme Spaika.Media. Je sokustosinja razstav Every Day. Art. Solidarity. Resistance (Ukrajina, 2021), Names (Belorusija, 2017), I Was Approaching the City I Had Not Known Yet (Ukrajina, 2021), If Disrupted It Becomes Tangible (Litva, 2023) in drugih. Stebur je soustanoviteljica in kustosinja antiwarcoalition.art – mednarodne koalicije kulturnih delavcev v solidarnosti z Ukrajino. Njeni raziskovalni interesi vključujejo feminizem, postsovjetske študije, politično umetnost, taktike odpora in solidarnosti ter razvoj infrastrukture.
---
Organization: 24th International Feminist and Queer Festival Red Dawns
Co-organization: SCCA-Ljubljana
Image design: Aliaksandra Ihnatovich
The event is supported by the City Council Ljubljana.