Festival V-F-X Ljubljana
Friday, 19 May 2022, 9 pm
Slovenian Cinematheque, 28 Miklošičeva Street, Ljubljana
Screening
Artists: Gernot Wieland, Carlos Irijalba, Zachary Epcar, Anja Dornieden, Juan David González Monroy in Andrew Kim
Curator: Katrin Mundt
Tickets: 4,40 €
---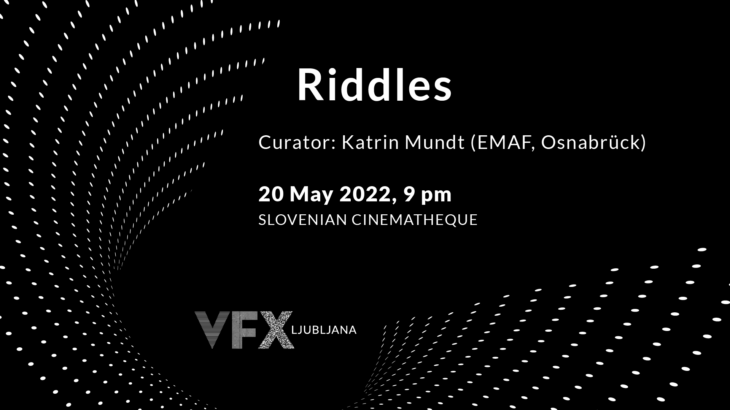 Riddles brings together four artists' films that reflect on the role of narrative in the making of what we perceive to be reality, that play with trickery and illusion, and the critical potential inherent in fiction and fabulation. They move in circles or between knots in time, look closely at surfaces to imagine impossible depths, invent a future to speak about the past, and invite us to follow while erasing their own traces.
In Gernot Wieland's works, film, performance and drawings combine with the recollections and observations of a first-person narrator, whom we – so suggestive is his address, so poignant his remarks – identify with the author as a matter of course. We willingly follow the tracks he lays – the childhood memories that paint in miniature the picture of a traumatized society, the cinematic reconstruction of a play that was never performed, the research into a psychiatric movement that threw open institutional doors to renew communal life. Against an outside that is silent and an inertia in which one has made oneself at home, this "I" unfolds a personal narrative in which the outside resonates, in which people become birds, a nation appears in potato print, and drawing and writing merge into each other – a speaking addressed to an absent one that liberates itself by giving itself away.
Half Wet is Carlos Irijalba's first film that transports us to an unspecified future. In Oaxaca, Mexico, a man goes about his work, as generations before him have done: he cleans the swimming pools that, once built for tourists only a few meters from the sea, have not been visited for a long time. In Irijalba's film, the oceans have had their day as a habitat for humans. Swimming must be like flying, the protagonist speculates wistfully, and thus indirectly refers to that other form of tourist locomotion that has lost its innocence with the onset of our class-based climate crisis. What is at stake here is not only the fallout of a leisure industry that perpetuates postcolonial inequalities and takes them ad absurdum in the automatism of a misunderstood "tradition", but also the somnambulistic self-assurance with which we continue to move into this future – as if asleep on an airplane.
In Zachary Epcar's films, things breathe. In The Canyon, they occasionally sigh or moan softly. Here, objects and buildings, bodies and landscapes appear caught in a continuous loop of mutual stimulation and animation. The camera moves nervously along surfaces in search of depth or friction or seeks a foothold in static shots that exaggerate the trivial into the sublime. The journey through this canyon is like a journey through the infrastructures of desire on which our present moment rests. We feel alienated and yet recognize everything – the longing for "the linens", or the voices echoing a cell phone buzz. We find ourselves in a rest-less present, in which remembering equals the imprint left in the "memory foam", and possession is just another name for the loss we experience, for the void, we leave behind when we move on.
The works of Anja Dornieden and Juan David González Monroy are dazzling film illusions, in which the film apparatus itself seems to be addressing us, manipulating us, or leading us astray – to a point between reality and fiction, from which we can no longer tell how we actually got there. Instant Life was created together with Andrew Kim, according to the three authors as a three-part reconstruction of a found film. A film with three lives, in which the living itself is in question. We see crystals and their growth, the formation and decay of cell structures, gathering storms and ominously billowing fog – all deceptions from the bag of tricks of film history, here reconstructed with DIY methods. The timeless artificiality of these creatures and landscapes is gradually revealed, and the more obvious the deception, the more insistent the warning of its corrosive power, the more willingly we allow ourselves to be drawn into the paradoxical intricacies of the narrative. The search for the Sublime Subject is first a riddle, then a gag.
The programme will be presented by the curator, writer and co-director  director of EMAF – European Media Art Festival in Osnabrück Katrin Mundt.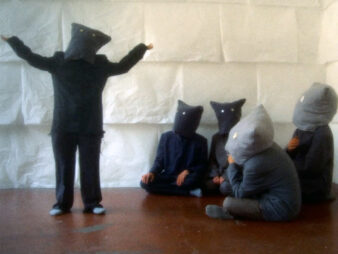 Bird in Italian is Uccello (Bird in Italian is Uccello)
Gernot Wieland, Austria/Germany, 2021, digitaln format, 14′
______________
ird in Italian is Uccello furthers Gernot Wieland´s interest in psychological states and the constitution of belonging in different social contexts. Drawing upon Daphne du Maurier's short story The Birds and its subsequent cinematic adaptation, Bird in Italian is Uccello (re)enacts a theatrical production of the horror thriller. Working specifically with an account of a never performed theatre production of Maurier's story – one that was meant to be staged at a psychiatric hospital in Northern Italy – Wieland's film inverts the original script's roles: human characters become birds and the bird protagonists become humans. Deploying Slavoj Žižek's notion of the 'real', this role reversal not only shakes up ideas of reality but through Wieland becomes a way to connect socio-political fear to the migration of birds; conflating social psychology and nature to explore notions of power in turn. (Toby Upson, 2021)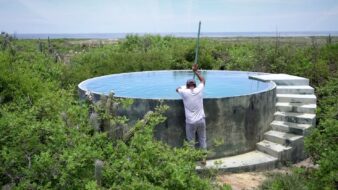 Half Wet
Carlos Irijalba, Netherlands, 2022, digital format, 17′
______________
At a dystopian future moment on the coast of Oaxaca, due to global warming the ocean's pH levels have acidified, making them unsuitable for humans. Therefore sea tourism has been gone for generations and only the indigenous language is spoken. Wuicho repeats his father's and grandfather's ritual of keeping swimming pools pristine while he questions his actions and his predecessors. Irijalba wrote and filmed Half Wet on his own with a reflex camera and a smartphone in ten days, trying to generate no residue in a ready-made mode.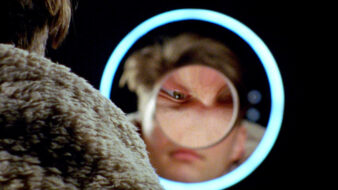 The Canyon
Zachary Epcar, USA, 2020, digital format (shot on 16 mm), 15′
______________
A portrait of the urban residential development as it slips into oblivion.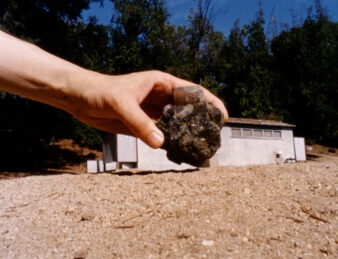 Instant Life
Anja Dornieden, Juan David González Monroy, Andrew Kim, Germany/USA, 2021, digital format (shot on 16 mm), 27′
______________
The three films you will see are shot-for-shot reproductions of the compilation film Instant Life (1981). Each film in Instant Life (1981) was a remake of an earlier film also called Instant Life (1941). The earlier Instant Life (1941) was a single film, not a compilation. In 2017, we decided to recreate Instant Life (1981). We did not attempt to recreate Instant Life (1941), because that Instant Life is lost. Instant Life (1941) was a silent film presented with live musical accompaniment. After the show, audience members received a printed riddle. Instant Life (1981) is a sound film. The riddle is part of the film. No answer to the riddle exists. (The authors)
---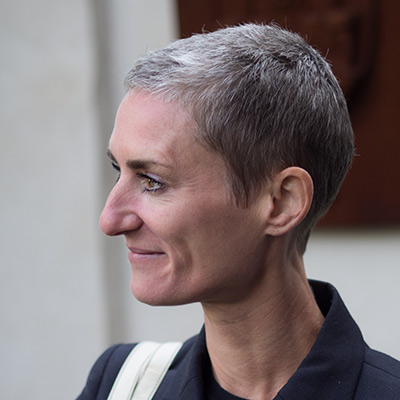 Katrin Mundt is a curator, writer and co-director of the European Media Art Festival (EMAF) in Osnabrück. She has developed film programmes and exhibitions for, among others, Videonale, Bonn, HMKV Dortmund, WKV Stuttgart, Museum Wiesbaden, Matadero Madrid and Center for Contemporary Arts Celje. She was a programmer for Duisburger Filmwoche, Short Film Festival Oberhausen and Kassel Dokfest. Seminars, workshops and lectures at Ruhr-Universität Bochum, Düsseldorf University, Goldsmiths, London, Academy of Media Arts, Cologne, HBK Braunschweig and Merz Akademie, Stuttgart, among others. She regularly writes on artists' moving image, especially its intersections with documentary and performative practices. (photo credit: Christine Raczka)
---
Kindly welcome also to the lecture Katrin Mundt: Curating Film and Video – A Self-Erasing Lecture on Thursday, 19 May 2022, 5 pm at Slovenian Cinematheque.
The programme is prepared in partnership with: Goethe-Institut Ljubljana.