Aplication deadline: Monday, 27 February 2017
---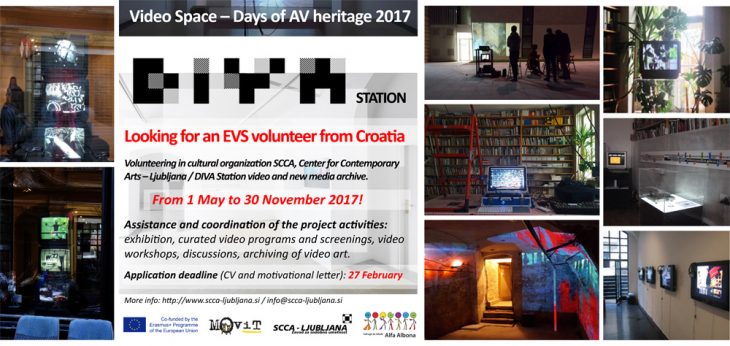 Images are omnipresent – they connect people as they enable us to communicate beyond language and cultural boundaries. With the project Video Space – Days of AV Heritage we want to discuss the meaning and role of video art. We want to include EVS programme into the project and give one young volunteer from Croatia a chance to be a part of the preparation of the celebration of the annual UNESCO international day of cultural heritage (27th of October).
SCCA, Center for Contemporary Arts – Ljubljana would like to offer you the opportunity to work on the preparation of the project that will take place in Ljubljana from from 1st May till 30th November 2017. The public part of the project will be held in October – more precisely, in the days around 27 October. Together with our team of Video archive DIVA Station you will prepare exhibition of the archive, video screenings, workshop productions of video and short film and other activities.
WHO ARE WE & WHAT DO WE DO?
SCCA-Ljubljana is a non-profit non-governmental organization operating in the public interest in the field of culture. We provide support for artists and cultural institutions, from education to preservation. Our offices are located in the Autonomous Cultural Zone Metelkova City, on the edge of the city centre of Ljubljana.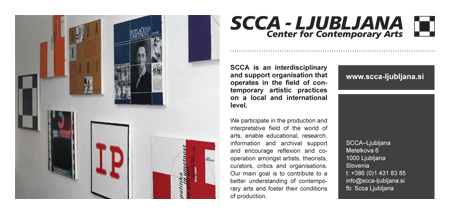 SCCA, Centre for Contemporary Arts – Ljubljana runs the only public online and physical archive of video and new media art in Slovenia – DIVA Station, which has been developing since 2005, and is one of SCCA projects that seek to research, document and archive video/new-media art. DIVA Station is based on collecting video documentation within a wider national context, and includes artists who work in Slovenia and/or abroad.
The idea of the event, which would be spread out through a few days, was formed as a response to the lack of recognition and visibility of video art in our region. Together with the volunteer we will present older and newer video art, its influence and mission, and also the working of AV archives. With events (projections, installations, exhibitions) in public spaces we will focus on the most propulsive young artists. This way the local community will meet the works of young authors, and get the chance to see why it is important to archive the moving images, which are most exposed to decay due to fast technological development.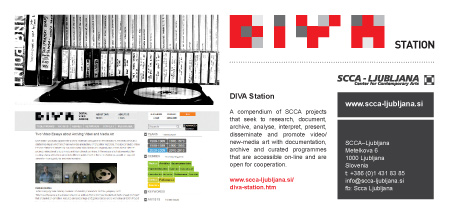 ---
WHO ARE WE LOOKING FOR?
We will host one volunteer from Croatia, up to 30 years old, who is interested in contemporary art, video and film productions of exhibitions and cultural events, as well as archival work.
If you are ready to gain your first experience or upgrade your skills, if you are self-initiative and you like to work in a team, welcome. Preference will be given to young people with fewer opportunities (cultural differences, geographical and economic constraints).
You will collaborate with artists in the production or presentation of their works, get to know contemporary art scene in Slovenia and visit galleries, museums and other cultural institutions. We will teach you how to document and record video art and much more. You can prepare your own project of the presentations of video art and that way develop your creative potential and gain experience as a creator/curator.
WHAT DO WE OFFER?
The volunteer will be actively included in the content preparation of the project, as we have only designed the framework for activities and content. In the first period of the project we will offer a series of internal trainings (preparation of cultural events and exhibitions, curating and production work, technical planning for exhibitions, PR, preparation of financial plans, finding sponsorships and donations, documentation), so that the volunteer will be included into the entire planning process. The volunteer will be encouraged to carry out their own project as a part of the AV heritage celebration. In the second execution period of the project the volunteer will cooperate in the coordination team together with the project leader. The work will include coordination and execution of the activities and coordination of the execution team, cooperation with artists and production of the art works, preparation of the locations etc. The third period is intended for the evaluation of the project activities and of the volunteer's work, reviewing mostly their expectations in the light of the practically gained experience and new knowledge, which the volunteer will be able to use in his future career.
The volunteer will be offered to get included in all of our activities. We will encourage him or her to develop their own ideas regardless of their past experience, which we will try to include in our programme.
The volunteer will have the chance to gain knowledge about the Slovene contemporary arts scene, about the work of the curator and exhibition production (open-calls, preparation and application of projects on an international level, and communication and coordination with local and international partners).
In collaboration with the archive DIVA Station one will get the opportunity to learn about online and physical archiving of art works and documentation, and also to research the history of Slovene video arts (mind here, we are the only institution in Slovenia with a publicly accessible collection of video arts).
WHAT WILL YOU GAIN WITH THE VOLUNTEERING?
The volunteer will strengthen one's communication skills in one's own and foreign language, social skills, self-initiative and creativity. We expect the volunteer to be open for gaining the informal knowledge and get new experiencein logistics, organization of events, collaboration with artists and the production of their work, media communication, as well as in independent and team work.
We will encourage the volunteer to develop competence in information technology usage (social media, design of contents, video production, article writing and publication preparation, recording, usage of specific computer programmes), organization and mathematic competence (schedule coordination, organization of events, effective usage of financial means, and also learning how to plan one's own trips and managing one's own allowance), and social competence.
We will motivate the volunteer to work in culture and to research in the field of contemporary arts, to work in art production or technical support in cultural activities (organization, coordination and execution of events). They will gain new professional competence (event planning) and knowledge (arts and culture), which will facilitate in searching for better employment opportunities in the volunteer's own country.
With the EVS programme the volunteer will get:
Reimbursement of travel expenses on arrival and departure.
Living in your own room and three basic meals for the duration of the project.
Monthly allowance.
Slovenian or English language course.
---
HOW TO APPLY?
We invite you to send your CV and motivational letter till Monday, 27. 2. 2017 to our partner organization in Croatia – Alfa Albona (alfa.albona@gmail.com), which will make the first selection, if needed. Three most suitable candidates will be interviewed by Skype between 1. 3. and 10. 3. 2017. The results of selection will be known on 17. 3. 2017. One selected volunteer will travel to Ljubljana on 30. 4. 2017.
When preparing a motivational letter, answer the following questions: Which area of culture and contemporary arts are you most interested in? Which computer programs do you know (eg. for word processing and data for image processing and video editing)? How will you use the knowledge and experience after returning home?
Do not worry, knowledge and experience are not the essence of the evaluation. Questions are for your own orientation when writing a motivational letter. We are interested in your motivation and readiness for new challenges.
---
MORE INFORMATION:
Project coordinator – hosting organisation: 
SCCA-Ljubljana (www.scca-ljubljana.si)
DIVA Station (www.e-arhiv.org/diva)
E-mail: info@scca-ljubljana.si
Project partner – sending organisation: 
Alfa Albona (www.alfa-albona.hr)
E-mail: alfa.albona@gmail.com
Co-funded by Erasmus+ programme of the European Union.