Early video art from the Southern Cone
An exhibition of video art works from Argentina, Chile and Uruguay between 1981 and 2001
Curator: Angela López Ruiz
Introduction: Francisco Tomsich
Opening: Wednesday, October 11, 2017, at 7pm
Project room SCCA, Metelkova 6, Ljubljana
Exhibition will be open till October 13, 10am – 4pm.
---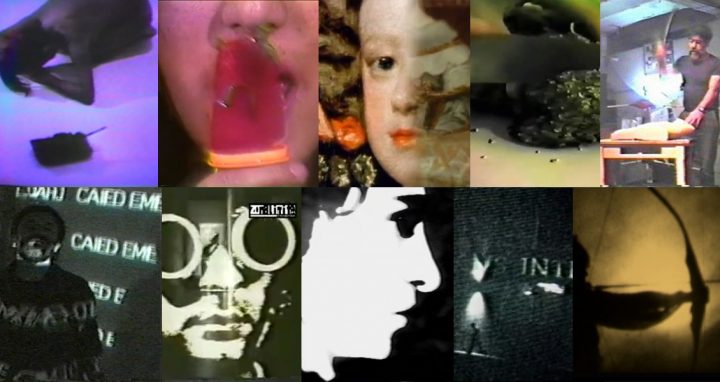 Artists: Fernando Álvarez Cozzi, Sybil Brintrup & Magali Meneses,Gloria Camiruaga, Juan Downey, Rubén Guzmán, Narcisa Hirsch, Los Estómagos,  Clemente Padín, Javier Sobrino & Guillermo Faivovich, Carlos Trilnick
The selection proposes a genealogy of significant video art practices that emerged in times of deep political, social and cultural conflicts.
Predstavitev del (v angleščini, pdf)
Kuratorsko besedilo (v angleščini, pdf):
Ángela López Ruiz: Encounters and networks in the constellation of video art in the Southern Cone (1981-2001)
—
The exhibition will be introduced by Francisco Tomsich, adding a remarkable focus on the comparative analysis of the beginnings of video art in two up until now detached contexts, Slovenian and Uruguayan.
Francisco Tomsich: One-direction gaps. Notes on the origins of video art in Uruguay and Slovenia (Fragment) (v angleščini, pdf)
---

Ángela López Ruiz is a visual artist, curator and researcher from Montevideo, Uruguay. She has a Degree in Visual Arts from the Universidad de la República (Uruguay) where she is currently finishing her Master in Latin America Studies. She is part of the curatorial team of Ism, Ism, Ism: Experimental Cinema in Latin America, and lately she contributed a chapter on the silenced protagonism of women​ filmmakers​ in the history of Latin America experimental cinema for the associated anthology (University of California Press – Los Angeles Filmforum, 2017). She works as advisor at the Film Laboratory of the Contemporary Art Foundation (an artists' collective based in Montevideo since 1999). Her research about experimental cinema and performance have been exhibited at the 29th San Pablo Biennial (Brasil), Ambulante (México), Paralelo/Manifesta8 (España), Cine a Contracorriente (Barcelona), 30th San Pablo Biennial (Brasil), Filmmakers Coop (NY), Museo del Barrio (NY), PhD in Practice (A.K, Vienna), San Francisco Cinematheque (SFO), and more. She´s guest professor in the postgraduate program of EICTV-Cuba.

Francisco Tomsich is an artist, author and art teacher born in Uruguay in 1981. He produces exhibitions, books, publications and research projects on arts since 2002 and integrates into / collaborates with numerous artists' associations in Europe and South America, including Transposed Study for a Common Portrait (Uruguay), Museum of Contemporary Art of Montevideo (Uruguay) and Meta City Symptoms (Slovenia). He participated at the 7th MERCOSUR Biennial and the 1st Montevideo Biennial; his works have been awarded on many occasions, e.g. the National Prize for Literature of Uruguay (2012) and the FEFCA Scholarship for young artists from the Ministry of Culture of Uruguay (2013) for launching Talgia – a series of research programs, exhibitions, publications and pedagogical devices focused on recent art histories from the Balkans and southern South America.
franciscotomsich.tumblr.com
---
Photo: Henrike von Dewitz