In 2014, we are planning two events: in May, the project Uni-form in collaboration with the artist Damijan Kracina and the National Museum of Slovenia and in August, the project On Our Backyard with the Croatian artist collective PLEH (Kata Mijatović, Zoran Pavelić, Vlatko Vincec, Marijan Molnar).
With these two projects Studio 6 continues and evolves its mission in offering a platform for presentations of artistic projects and their reflection and encouraging discussion on contemporary arts. Studio 6 is constructively connecting various protagonists in the field of contemporary arts (artists, curators, theorists, critics) – especially when it goes for a new, unusual and unexpected coming -together.
Namely, Uni-form connects two at the first sight completely different organisations: National Museum of Contemporary Art (the oldest of all the Slovenian museum institutions which in its six departments collects, documents, preserves, and investigates the mobile cultural heritage of Slovenia and presents it to the public) and SCCA–Ljubljana which is an interdisciplinary and support organisation that operates in the field of contemporary arts.
Together with curators of National Museum of Slovenia, invited participants at the panel discussion and artist Damijan Kracina we will discuss the question of ceramic art in Slovenia; its historical context, the level of education and critical writing; and last but not least, tackle also the role of the material/technique of an art work in contemporary arts. What actually determines whether an art work is perceived as contemporary or not?
On the other hand, In Our Backyard: Pleh References in Ljubljana, the exhibition, conversation and a performance, continues our collaboration with the International Centre of Graphic Arts which has been the host of our exhibition Print! already in 2012. The artistic practice of the PLEH artist collective is based in an in-depth monitoring of their surroundings, context and exhibition space specifics. We hope that their exhibition placed in our biggest museum for research and presentation of graphic arts will open new references and relations to our cultural milieu.
---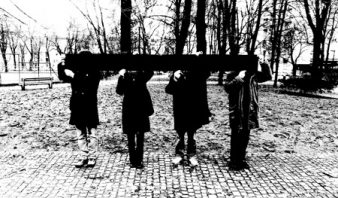 In Our Backyard: PLEH References in Ljubljana
Exhibition and performance
August 28–September 26, 2014
International Centre of Graphic Arts, Pod turnom 3, Ljubljana
Artists: Kata Mijatović, Zoran Pavelić, Vlatko Vincek, Marijan Molnar
Curator: Saša Nabergoj
Coordinator: Simona Žvanut
Exhibition opening and the performance:
Thursday, 28 August 2014, at 8 pm
At the opening, the PLEH artist collective will carry out individual actions and performances under the joint title of PLEH Responsibility.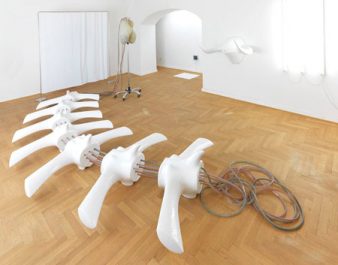 Uni-form
Exhibition and panel discussion
Thursday, May 29, 2014, at 4 pm (panel discussion, National Museum of Slovenia – Metelkova, Maistrova 1) at 6 pm (exhibition opening at Project Room SCCA, Metelkova 6)
Panel discussion
Participants: Dragica Čadež Lapajne, Mateja Kos, Iztok Maroh, Tanja Pak, Saša Rudolf, Vera Stanković and Ina Širca
Moderators: Zora Žbontar and Simona Žvanut
RExhibition Uni-form
Damijan Kracina presents:
Projection of the video I'm Not There (author: Sebastjan Vodušek)
and
radio play
Marn nemarn (PISOAR WITH HORNS AND OTHER PROJECTS)
Text: Jani Pirnat
Actors: Ivan Jakac, Ajda Toman, Rok Kunaver
Sound: Sašo Kalan
Premiere at 6.15 pm
Curators: Saša Nabergoj and Simona Žvanut
The exhibition and panel discussion are the first two events accompanying the International Ceramic Triennial UNICUM 2015 (May 15–September 30, 2015), organised by the National Museum of Slovenia.