Final exhibition of the 17th generation of the World of Art School
---
12 November – 29 December 2020
Škuc Gallery
Artists: Maruša Meglič and Sara Rman
Curators: Tia Čiček, Kristina Ferk, Katja Filovski, Lara Mejač, Anja Seničar and Rea Vogrinčič
Mentors: Alenka Gregorič and Miran Mohar
Advisory role in the implementation of the exhibition: Miha Kelemina, Lara Plavčak and Asta Vrečko
---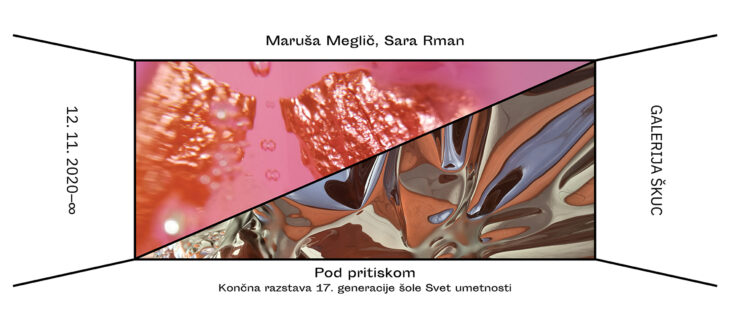 The exhibition Under Pressure brings to the fore the attitude towards materiality. It presents the works of Maruša Meglič and Sara Rman, who experiment with materials and examine their capabilities. In the work of both artists, an important role is played by the process that explores the fragility, durability, adaptability and irreversibility of materials. The unpredictability of the process and the choice of the materials used allow for the possibility of mistakes, while at the same time dictating the content of the artwork. Parallels in the relationship with the material itself can also be found in the perception of the space into which the artists install the artwork. The placement in the space co-creates the individual artworks and the already established content of the works is meaningfully supplemented by each new installation. The confrontation of the works by the two artists at Škuc Gallery establishes new connections that consider materiality, hence allowing us to understand the works in a multifaceted way.
MORE ABOUT THE EXHIBITION on the World of art page
---
Presentation of artists Maruša Meglič and Sara Rman
Camera and editing: Toni Poljanec
Presentation of the exhibition Under Pressure (in Slovene)
Author and camera: Aljoša Abrahamsberg, production: RX-TX Institute
---
Maruša Meglič (1989) obtained a master's degree in the Department of Painting at the Academy of Fine Arts and Design in Ljubljana in 2018. She has presented her work in several group and solo exhibitions both in the Slovenian and the international arena: Success is looking for a good place to stay (DLUL, 2019), Trude Johansen & Maruša Meglič (MGLC, Ljubljana, 2018), Every Man Is A Lonely Island ( Alkatraz Gallery, Ljubljana, 2018), Skin Deep (HOoST, Ljubljana, 2017), Warm Heart Faint of Heart (Chalton Gallery, London, 2016), An Artist Needs Very Little (KIOSK Kino Šiška, Ljubljana, 2015), Something Pink (Bežigrad Gallery, Ljubljana, 2013). She is the recipient of the Essl Art Award CEE 2015.
Sara Rman (1992) is continuing her studies for a master's degree at the Academy of Fine Arts and Design of the University of Ljubljana after graduating in Photography under the mentorship of Prof. Peter Koštrun. In 2017, she received the 2016/2017 Outstanding Academic Achievements Award for her dissertation Free Spirit of Time. Her works have been presented at group exhibitions in Slovenia and internationally: Self-Development (Alkatraz Gallery, Ljubljana, 2019), Eat this! (Račka Gallery, Celje, 2019), Haunted House of Horror (London, Great Britain), Retro (Fotofest Košice, Slovakia), After all (Krakow, Poland). She presented herself independently in Košice, Slovakia, with the exhibition Swallow Your Pride in 2017.
---
---
COLOPHON
Proofreading: Inge Pangos
Translation: Arven Šakti Kralj Szomi
Design: Lea Jelenko
Video Artists presentation: Toni Poljanec
Photos: Simao Bessa, Klemen Ilovar
Production: SCCA–Ljubljana, Center for Contemporary Arts / World of Art School
Co-production: Škuc Gallery
The final exhibition is supported by Municipality of Ljubljana – Department for Culture and the Ministry of Culture of the Republic of Slovenia.