Contemporary Artistic Revolutions: An Institutional Perspective
Exhibition
February 28-July 15, 2017
Opening: February 28, 2017, at 6 pm
Conference
March 1-2, 2017
AUB Byblos Bank Art Gallery / ABU Art Collections and Galleries
Department of Fine Arts and Art History, Faculty of Arts and Sciences, American University of Beirut, Lebanon
---
Urbanaria projects / SCCA-Ljubljana and Barbara Borčić, program advisor and head of video programs at SCCA-Ljubljana, will participate at the international art project Contemporary Artistic Revolutions: An Institutional Perspective that takes place in Beirut in Lebanon from February 28 until July 15, 2017.
Barbara Borčić will present the Urbanaria projects/SCCA-Ljubljana at the conference and has selected for the exhibition the following art works:
New Collectivism: NSK Post, exhibition (1994), leaflet and the collection of stamps;
IRWIN, Uršula Noordung (1995), teddy bear;
Alexander Brener, Street Fighter and His Limits, performance (1995), video documentation.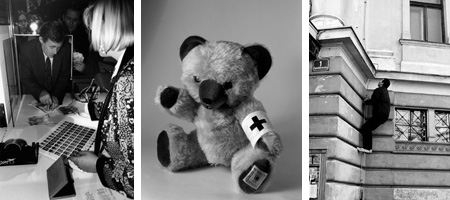 ---
About Urbanaria. Art In the Urban Context
Urbanaria I (NUK, Ljubljana, November 25-December 24,1994)&
Urbanaria II (different venues, January, 1995-November, 1997)
Urbanaria's general concept was art in the urban context. The public announcement was open to all forms of expression and visual media. Out of 52 proposals the international expert jury selected 14 projects.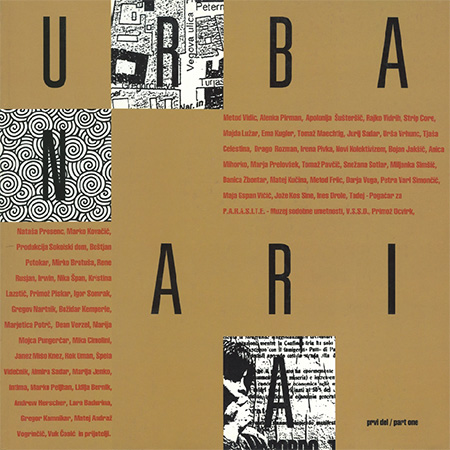 The Urbanaria – Part One had primarily a character of a research. Its conclusion was a conceptual exhibition of all submitted proposals entitled Sketches/Documents of the Production Process, accompanied by a catalogue.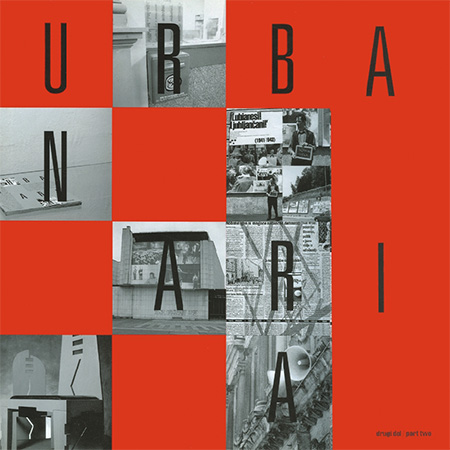 Urbanaria – Part Two comprised thirteen separate projects, installations, actions and events, presented in the second catalogue. The common characteristic of these projects was that they exploited the effectiveness of advertising, design and the mass media.
---
About the Contemporary Artistic Revolutions: An Institutional Perspective
Artists in the Exhibition: Gordana Anđelić-Galić (Bosnia and Herzegovina); Ahmed Badri (Egypt); Amal Bohsali (Lebanon); Alexander Brener (Russia); Delve Institute (Croatia); Arman Grigoryan and The 3rd Floor Movement (Armenia); Abhishek Hazra (India); IRWIN (Slovenia); Želimir Koščević (ex-Yugoslavia); NSK (Slovenia); Shady El-Noshokaty (Egypt); Eduardo Paolozzi (UK); Mark Verlan (Moldova); Walid Sadek (Lebanon); Janja Žvegelj (Slovenia)
Participants in the Conference (March 1-2) and Publication: Ivana Bago (Duke University; Delve – Institute for Duration, Location and Variables);Lucy Bayley (Middlesex University and the Institute of Contemporary Arts); Barbara Borčić (SCCA-Ljubljana); Natasha Gasparian (American University of Beirut); Sabih Ahmed (Asia Art Archive) and Nida Ghouse (Mumbai Art Room); Octavian Eșanu (American University of Beirut); Angela Haratyunyan (American University of Beirut); Tevž Logar and Vladimir Vidmar (Škuc Gallery, Ljubljana, Slovenia); Kristóf Nagy (Artpool Art Research Center – Museum of Fine Arts, Budapest); Dina Aboul Fotouh (Home Workspace Program Ashkal Alwan); Peter Osborne (Kingston University London); Amila Puzić (University "Džemal Bijedić" in Mostar); Miško Šuvaković (Faculty for Media and Communications, Belgrade)
»Over the past years art historians, critics, artists and philosophers have more frequently than ever posed the question of what is, or was, contemporary art. The question has been most urgently posed in a recent series of books by Western academic publishers, special issues of art periodicals, or conference proceedings organized by leading art institutions. The "contemporary," "contemporary art," and "contemporaneity" have been considered from multiple perspectives: as categories of art historical periodization (or resistance and refusal to periodize); as modes of articulation of temporality (or the impossibility of doing so); as manifestations of political, economic and ideological contradictions of late capitalism (or a desire to repress the political); as symptoms of the multiple diseases of globalization and of rising economic inequality (or an affirmative embrace of the "global village" at whatever cost); as part of the lasting Western narrative of "progress," or more recently of "transition to democracy," bestowable upon an Other (or as critiqued in the context of local post-colonial or post-socialist histories).
This year AUB Art Galleries joins these debates and brings a different approach and perspective to the theme. First of all, we would like simultaneously to translate recent dialogues surrounding contemporary art into the format of an art exhibition, an academic conference, and a publication; secondly, we are seeking ways to emphasize the problematic of the contemporary by drawing attention to debates over "what is" or "was" contemporary art as they unfolded in "non-Western" parts of the world. For this event – which we have titled: Contemporary Artistic Revolutions: An Institutional Perspective – we invited artists, scholars, and art historians to share with us their research on the emergence of the co-called "contemporary paradigm" within their respective artistic milieux. We are looking into the earliest art events and those forces that locally affirmed the contemporary as a new mode of artistic production.« (Octavian Esanu, Curator, AUB Art Galleries)
---