Talk and screening
Wednesday, 29 November 2023, 7 pm
Photon Gallery, Trg Prekomorskih brigad 1, Ljubljana
---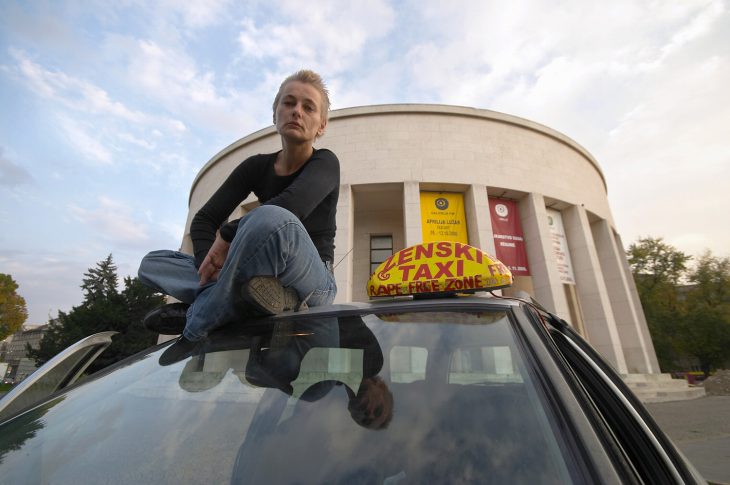 Aprilija Lužar is an engaged feminist artist and activist. In her artworks, she deals with topics such as sexual violence against women, the position of women in society and lesbian artistic activism. Her most well-known work is the Women's Taxi project, a female artistic transport therapeutic campaign for women and girls who have survived various forms of sexual violence (rape, human trafficking, paedophilia, lesbophobia). The project, which the artist calls Taxi Art or mobile art, was carried out in various cities and included street action, media announcements, a telephone line and anonymous free transportation of female passengers in a mobile public confessional/car. Along with the exhibition of past video works and performances as part of the Taxi Art platform, the project was also upgraded each time with video testimonies of the participants from the city where it took place. Women and girls responded to media invitations and trusted the painter Aprilija Lužar and her psychological and legal support. Visiting the Women's Taxi exhibition was an incentive for them to decide publicly, with their faces and names, to confess the sexual violence they had experienced. The exhibition raised awareness of human rights and helped to realize that rape victims have nothing to be ashamed of. While touring in Croatia, Serbia, Austria and elsewhere, she also empowered local women to speak publicly about the sexual violence they had experienced.
Women's Taxi was founded in 1997, and in 2002 it was awarded in the international competition V-Day – Stop Rape Contests, which made it possible to realize actions. The competition, which is behind the American activist and author of the cult Vagina Monologues Eve Ensler, is an international initiative that promotes original strategies to prevent violence against women. It was first exhibited in the context of the gallery presentation in Ljubljana in the frame of the City of Women festival in 2002 and has extensive video documentation. Since then, the project has been presented several times and implemented in various upgrades in Slovenian and international space.
At the event, we will watch the documentation of the performance Women's Taxi – Žuta, which Aprilija Lužar performed as part of the 8th International Festival City of Women at KUD France Prešeren in Ljubljana in 2002, as well as short excerpts from the eight-hour video installation Women's Taxi – Talking Portraits (2002–2006). The artist's video archive includes other video projects and video documentation of various performances and public events.
---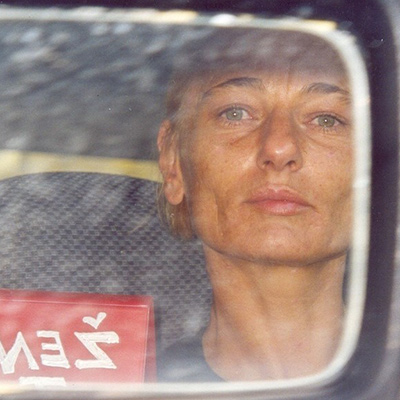 Aprilija Lužar (1963) completed her painting studies at the Academy of Fine Arts in Sarajevo and Ljubljana, where she graduated in 1987. In 1991, she completed a master's degree in painting. In her paintings, performances and other projects, she deals with women as individuals, with taboo topics and social prejudices of enjoying one's own body, and highlights the right to lesbianism and society's discriminatory attitude towards women. In various media, she portrays and creates a woman who is able to break out of the framework of patriarchal society.
As an activist, Aprilija Lužar participated in creating organizations with her artistic involvement from 1987 onwards and was actively involved in the beginning of the feminist and lesbian movement in Slovenia and former Yugoslavia. She is the co-founder of the first lesbian group LL in Ljubljana and Yugoslavia (1987/1988), the first lesbian group in Croatia Lola (later renamed Lila Iniciativa, 1989), the Women's Center on Metelkova, the feminist lesbian group Kasandre in Ljubljana (1994), Roza club in Ljubljana (1990) and the lesbian group Kontra in Zagreb (2000). She collaborated with ŠKUC-LL and various women's centres, such as the Trešnjevka Women's Group (1988) and Kontra in Zagreb, F-IKS, SOS Telefon and the Women's Counseling Center in Ljubljana, as well as women's non-governmental organizations in Zagreb, Belgrade and Sarajevo. Since 2000, she has cooperated with the Women's Center for War Victims – Rosa Zagreb. From 2009 to 2012, with the Taxi Art project, she participated in the initiative to establish a coalition of non-governmental organizations and individuals, RECOM, a regional commission for establishing the facts about war crimes in the area of ​​the former Yugoslavia. She helped the Erased in Slovenia through her activist work. In 2009, she participated in the establishment of the Women's Court for female victims of war/rape in the former Yugoslavia and video-documented the testimonies of the victims.
She organized the First International Lesbian Camp in Yugoslavia in Rab in 1988. She participated in the ILGA conference in Austria and the ILGA meeting for Eastern Europe in Budapest (1989). In 1991, together with the Slovenian writer and actress Berta Bojeta – Boeta, she prepared an artistic program at the Yugoslav Feminist Meeting in Ljubljana. In the same year, she collaborated with the radical feminist group Kareta in Zagreb, which published a newspaper of the same name. She connected her studio in Metelkova to the Metelkova Women's Center, where she ran art workshops and prepared exhibitions and performances. Since 2007, she has initiated and founded the Taxi Art Cultural Association, Women's Taxi. She still collaborates with women's groups and non-governmental organizations in Slovenia and the countries of the former Yugoslavia.
Her work is considered the beginning of engaged feminist art in Slovenia. She exhibited at the City of Women and Red Dawns festivals several times and was included in various overview exhibitions of feminist art. She works in the media of painting, video, performance, sound works and installations. Her artistic works range in style from portrait realism to abstract postmodern painting, from performative action and body art to participatory projects. She presented her artworks at numerous solo and group exhibitions in Slovenia and internationally. Lužar received the main prize at the May Salon (Pop) 2004, organized by ZDSLU. In 2004, she was presented in the thematic issue of Women in Fine Art in the Journal for the Critique of Science, Imagination, and New Anthropology (Časopis za kritiko znanosti). She is an independent cultural worker and has been a member of the Fine Artists Society since 1988. She participated in artist residencies in Berlin and New York. She lives and works in Dolnja Briga near Kočevska Reka. (Foto: Aprilija Lužar, personal archive)
---
At Video Evenings with DIVA Station, we host authors who are included in the archive and invite them to talk about their work and the background behind creating individual video projects. The presentation in the gallery (artist talk) is accompanied by projections with comments, followed by a conversation with the audience. The Video Evenings are prepared by Vesna Bukovec, a professional associate of the DIVA Station archive of video, film and new-media art.
Production: SCCA-Ljubljana/DIVA Station, Photon Gallery
Supported by: Ministry of Culture of the Republic of Slovenia and City of Ljubljana – Department for Culture