Screening and talk
Thursday, 21 July 2022, 9 pm
Inner courtyard of Škuc Gallery
---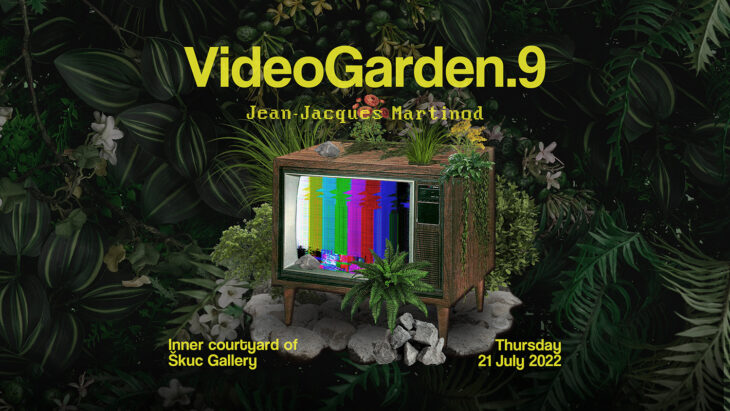 The new season of VideoGarden (VideoDvorišče) events is starting with a guest programme by the Ecuadorian experimental filmmaker Jean-Jacques Martinod. Together with co-director and cinematographer Bretta C. Walker, they will present a selection of short films and the background behind their creation. A selection of poetic, meditative films addresses liminal emotional and spatial personal experiences and reflections on the coexistence of human and nature.
In case of rain, the screening will be held in the gallery.
---
PROGRAMME
Short films by Jean-Jacques Martinod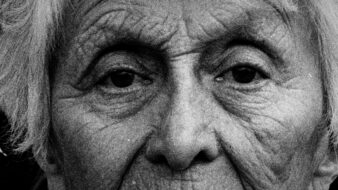 Datura's Aubade
(co-directed with Bretta C. Walker)
USA & Mexico, 2021, Super 16 mm, 17'
A farmer discovers a fallen meteorite in the high Chihuahuan deserts. The Alien Earth and the Earth Alien commingle under the spell of a deadly nightshade.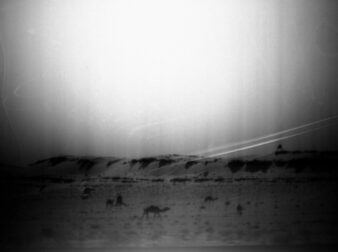 Grabados del Ojo Nocturno
Ecuador & Morocco, 2016, 16 mm, 7'
Collected imagery turned ritual travelogue, from the Sahara to the oceans of South America, passing through an ancestors abode.
WARNING: The film contains strong flashing light and sound signals.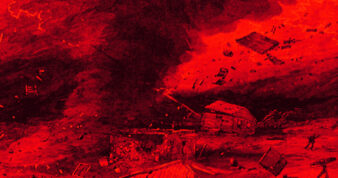 Before the Deluge
Canada, 2019, Super 16 mm & Hi-8, 38'
Within the ancient Precambrian rock of Northern Canada sits one of the largest reserves of uranium on the planet. A power that has yielded the largest destructive energy known to man, also manifests in the region's harsh natural glory. A gothic travelogue that summons dialogue with ghosts of the region; abandoned mining towns swallowed within the pandemonium of extraction commerce and neglect, while also the liminal unknown forces that inhabit these lands and speak in shadow memories.
La Bala de Sandoval (Sandoval's Bullet)
Ecuador, 2018, Super 16 mm, 17'
Isidro meanders through the rainforest while he and his brother recount the times he found himself face to face with death itself.
---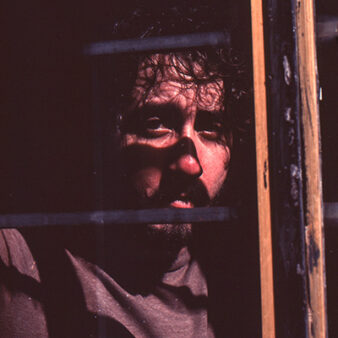 Jean-Jacques Martinod is an Ecuadorian filmmaker, radio DJ & media artist. Inhabiting living locales as deterritorialized landscapes, his practice consistently considers the interrelations inherent in fluctuating psychic geographies and expanded human noesis. His works endeavor to interrogate sensory cognition in relation to the natural world, potential planes and parapoetic territories, by interlacing ethnofiction with artisanal experimental film techniques.
His work has earned awards and screened in museums, galleries, film festivals and independent artist-led spaces and co-ops, including The Museum of the Moving Image, Cinemateca Nacional del Ecuador, Cinemateca do MAM Rio de Janeiro, Cinemateca de Bogotá, Centre PHI Montreal, International Film Festival Rotterdam, Nomadica at LABA, Sheffield Doc/Fest, FIDMarseille, Mar del Plata, DocumentaMadrid, European Media Arts Festival, 25FPS, Images Festival, Frontera Sur, Camden International Film Festival, Alchemy Film and Moving Image Festival, Fracto Experimental Film Encounter, Experiments in Cinema, Encuentros Cinematográficos Cámara Lúcida, among many others.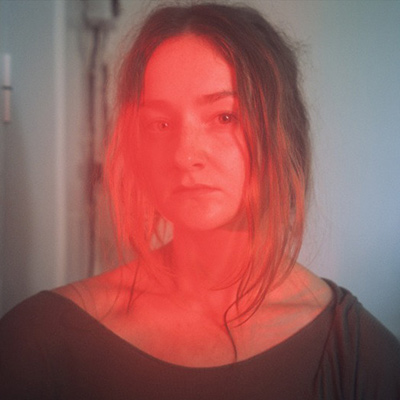 Bretta C. Walker is a practitioner of temporal, alchemical, and relational poetics. Her work is that of a deeply personal practice grounded by healing and liberated by process, often addressing liminality, somatic memory, passage, intimacy, and abyss.She was born and raised in the Blue Ridge Mountains of rural Appalachia (USA) and currently leads a nomadic life throughout Europe, seeking out and manufacturing temporary autonomous zones. She is a certified permaculture designer and budding herbalist of the Wise Woman tradition, spearheads the publishing project Evidence House, is represented by Vtape distributors in Canada, and holds a BFA in Studio Art from Tufts University. Her works have shown in various galleries and festivals across the Americas, Asia, and Europe and have been permanently archived in several institutional collections, including that of The International Center of Photography in New York.
---
Photo: SCCA-Ljubljana Archive
---
DIVA Station is an online and physical archive that SCCA-Ljubljana has been developing since 2005 with the aim of researching, documenting, archiving and presenting art film, video and new media art.
---
Organization: SCCA-Ljubljana/DIVA Station, Škuc Gallery
The VideoGarden programme is supported by the Ministry of Culture of the Republic of Slovenia.
The SCCA-Ljubljana programme is supported by the City of Ljubljana – Department for Culture.