Final Exhibition of the 16th Generation of World of Art, School for Curatorial Practices and Critical Writing, 2017/2018.
15 May – 7 June 2018
Škuc Gallery, Stari trg 21, Ljubljana
---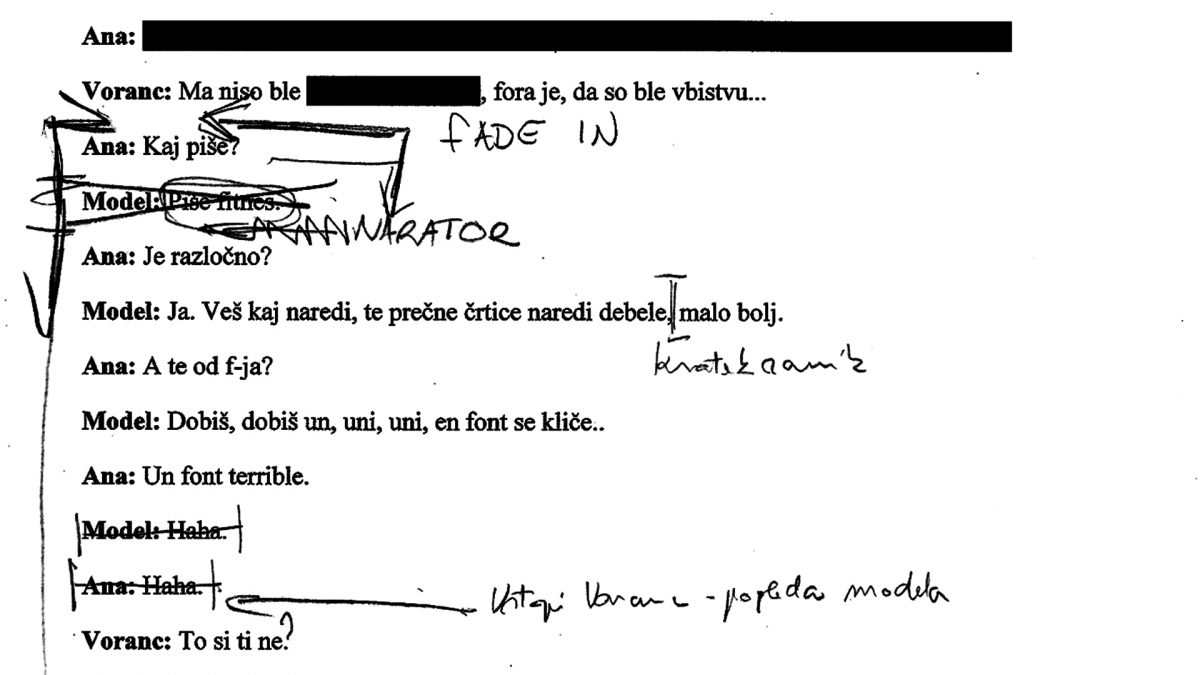 Artist: Voranc Kumar
Curators: Urška Aplinc, Maja Burja, Anja Guid, Ajda Ana Kocutar, Iza Pevec, Adrijan Praznik
Tutors: Alenka Gregorič, Miran Mohar
Head of the School: Miha Kelemina
---
ABOUT THE EXHIBITION
For a certain period of time while he was studying at the Academy of Fine Arts and Design, Voranc Kumar documented what was going on in the atelier as the first morning coffee was being prepared. At the time, the collected material was used in the work First Coffee (2014) and its sequel or, rather, remake Radio Play: First Coffee (2015). A Few Minutes Later. returns to the work in the making—to the field of unclarity and incompleteness. Curators and the artist have used the exhibition to jointly re-intervene into the original material that—exhibited multiple times—swings back and forth between the artwork and something that is not (yet) an artwork.
This is an attempt to return to the material that was put aside in order to be re-actualised, and opened so as to create different worlds of the work, to establish the field of manifold and passing gazes.
---
Voranc Kumar (Koper, 1990) is currently concluding his studies at the Academy of Fine Arts and Design (ALUO) and a two-disciplinary study programme of philosophy and sociology at Faculty of Arts in Ljubljana. His work disperses between visual art and theatre where he is also active as a scenographer and video designer. He participated in group exhibitions: What is learning? (Media Nox in Maribor), On time (ŠKUC Gallery in Ljubljana), Transform (Constantin Brancusi Gallery in Bucharest). Since 2017 he is a member of the editorial board of ŠUM journal.
---
ACCOMPANYING PROGRAMME
22 May and 7 June, at 6 pm – guided tours of the exhibition with curators
29 May, at 6 pm – guided tour of the exhibition with the artist
7 June, at 6 pm – presentation of the exhibition catalogue
---
COLOPHON
Production: SCCA–Ljubljana, Center for Contemporary Arts / World of Art School
Co-producer: Škuc Gallery
---
The final exhibition and the programme of Škuc Gallery and SCCA-Ljubljana is supported by Municipality of Ljubljana – Department for Culture and the Ministry of Culture of the Republic of Slovenia.
Sponsors: Riko, d. o. o., Zavarovalnica Sava, d. d., New Moment d. o. o., Elektro Ljubljana d. d. and PANON Wine
Donors: Petja Grafenauer, Rebeka Vidrih, Zavod Menuet
Acknowledgments: MG+MSUM, City Art Gallery of Ljubljana,Modri kot


Thanks!