Exhibition
24 October – 18 November 2022
Kino Šiška Centre for Urban Culture, Trg prekomorskih brigad 3, Ljubljana
Opening: 24 October 2022 at 7 pm
---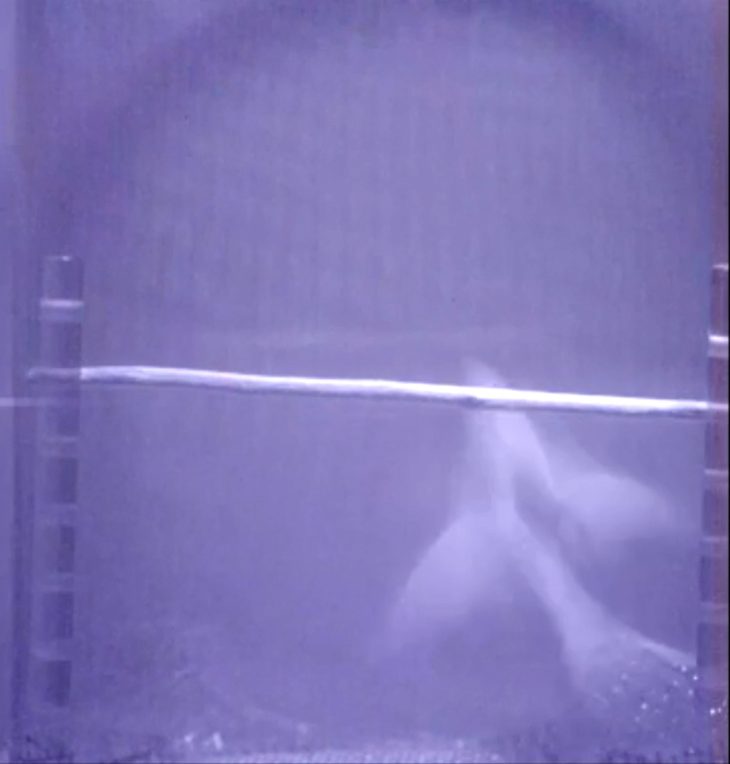 In Figure 1.1 (Appearing as Pure as Daylight), Ana Likar continues thinking about different forms of (non)sleep in migratory birds and their adaptations to unfavourable conditions, which she already focused on in her project Figure 1.1 (Other Forms of Unrest) this year at the Museum of Contemporary Art Metelkova. Some birds sleep with one eye during long flights, others in short intervals, and their bodies even adapt in such a way that they do not need a long sleep at all.
The idea of successfully eliminating sleep in humans is extremely attractive to capitalism, as it would mean a victory over nature and the abolition of the last part of the day when the individual neither produces nor consumes. It would end a part of life that is characterised by vulnerability, powerlessness and inadvertence. At the same time, such an adjustment would represent an apparent solution for the very individuals who find themselves in the time/money/existential crisis of modern capitalism.
The artist records research methods, analyses and scientific findings about the adaptations of birds. In the exhibition, she combines them through repetitions, transparencies and layering, which are a common approach in her work. On the one hand, the artist's work tries to hint at labour and living conditions, which rightly cause unrest, and on the other hand, she looks for elements of tenacity, resistance and persistence in this same, seemingly hopeless situation.
---
PHOTOGALLERY
Exhibtion opening, photo: Aleš Rosa/Kino Šiška archive
---
Ana Likar (1996) completed her studies of fine arts at the University of Applied Arts in Vienna, and also studied at the Faculty of Arts in Ljubljana and the Academy of Fine Arts in Athens. As an intermedia artist, she starts with questions about the conditions of narrative and image production, thereby trying to address that which remains hidden. Themes such as the undercut ideas of progress, the ruins of contemporaneity and ideological loops in popular science discourses often take shape in her works through repetition, layering and (non)transparency. Her works have been featured in several group and solo exhibitions in Vienna (mumok, New Jörg, Mauve, Fluc), Ljubljana (Museum of Contemporary Art Metelkova, Natural History Museum of Slovenia, Gallery P74, Gallery 7:069, Miklova Hiša Gallery, DobraVaga), Belgrade, Moscow and Gyumri (Armenia).
---
Curators: Lara Plavčak, Urška Aplinc
Organisation: SCCA-Ljubljana, Kino Šiška
Supported by: Municipality of Ljubljana – Department for Culture