Thursday, 23 July 2020, 19:34
Friday, 24 July 2020, 20.40 
https://konteksty.live/en
---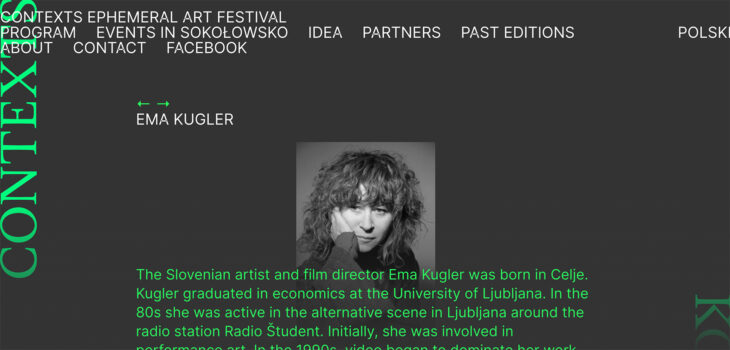 We are informing about the retrospective of the artist Ema Kugler at the Context Performance Festival in Sokolowski, Poland. This year's edition of the festival will take place live online from July 23-26.
Internationally acclaimed director Ema Kugler, recipent of the Prešeren Fund Awards and France Štiglic Award for the lifetime achievement by the Directors Guild of Slovenia, is one of three artists whose work at SCCA-Ljubljana is being studied as part of the European project Not Yet Written Stories. Her work is also included in the DIVA Station archive.
The festival retrospective of Ema Kugler's videos and films was curated by independent curator and researcher Lawinia Rate, who in 2019 researched the DIVA Station archive as resident curator and became acquainted with her work.
---
PROGRAMME
23 July 2020, 19:34
Discomfort in the Face of a Mirror Image. A Retrospective of Ema Kugler's Videos
// Hydra, The Visitor, Postaja 25 //
24 July 2020, 20.40
Man with Shadow. Discomfort in the Face of a Mirror Image. A Retrospective of Ema Kugler's Videos
// Man with Shadow (2019), Polish premiere //
---
LINKS:
https://konteksty.live/en
https://konteksty.live/en/ema-kugler
Ema Kugler at DIVA Station