A presentation of the film / video opus of Miha Vipotnik from 1974-2018
Screenings, exhibitions, lectures and talks
Opening event: Wednesday, 29 January 2020, 7pm (exhibition), 8pm (lecture, screening, talk)
Slovenian Cinematheque, Miklošičeva cesta 28, Ljubljana
---
Program (January-September 2020)
29 January / 11 February / 3 March / 7 April / 14 May / 24 June / 10 September 2020
Production: SCCA-Ljubljana and Slovenian Cinematheque
Curators: Barbara Borčić, Peter Cerovšek
---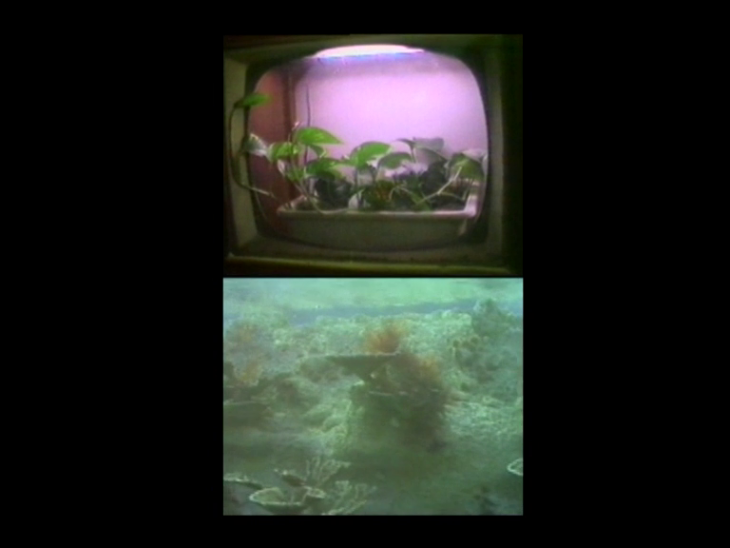 With projections once a month from January to June and September, the program will take us through a forty-year oeuvre of more than fifty works, from early analogues on celluloid and magnetic tapes to later digital ones on files and on online platforms. This will conclude the circle from early experimental processes to cinematic narration. The events will be accompanied by Screen Memory exhibition, Videogram 4 archive, lectures and talks with artist. In addition to the author, the program will include experts in film, video, new media and the author's works: Melita Zajc, Nika Grabar, Barbara Borčić, Peter Cerovšek and Igor Prassel.
In the archive DIVA Station SCCA-Ljubljana keeps Vipotnik's works and, in recent times, has been especially systematically researching, analysing and presenting them in the international space, as Vipotnik is an artist who has decisively marked the beginnings of video creativity in our country and also influenced the further development of film, video and media arts. We are proud that from now on Vipotnik's oeuvre will be kept also in the archive by the Slovenian Cinematheque, in the best quality on LTO carriers. All this is a good reason for the joyful celebration, as it also promises to continue this kind of cooperation in the fields of display, critical reflection and preservation of important Slovenia audio-visual cultural heritage.
Miha Vipotnik is primarily a painter, whose images and stories materialize in a form of movies and video art. From very early on, he used video as his main medium of expression – either through a single-channel video or as a constitutive part of his multimedia and interdisciplinary projects and art installations. Electronic media experimenting and the actual performative process are among key features of his artistic praxis, through which he explores the impact of such image transformations within his narratives. His artistic language includes elements of performance with an emphasis on the significance of timing and the gradual unfolding of enigmatic personal stories into a palimpsest of images, inscriptions and speech.
---
PROGRAM I
29 January 2020
Miha Vipotnik's film / video opus opened with a program of early experimental and performative works, the Screen Memory exhibition and a two-channel video installation Eight. The centerpiece of the program belongs to Videogram 4 from 1976/79  that enters into the annals of Slovenian contemporary art as the beginning of experimental video and multimedia art. The archive showcase placed in the hall entrance presented also the production process, material carriers of image and sound, and other material of this complex project that was at first presented as installation and performance in the gallery, and only later as a single-channel video broadcast on national television. The screening was introduced by media theorist Melita Zajc who also led a conversation with the artist relating to the specific dimensions of his film and media practices.
---
PROGRAM II
11 February 2020
The carefully chosen coincidence of images in dialogue with the words evokes a series of associations and poetic figures. From the narrative of a talking head that transforms into the poetry of a montage cut and the found imagery that weaves a portrait of the poet, to the author's cinematic staging of the poem itself. The program, presented in the style of a television scheme, is interrupted by the author's advertising spots.
TV advertisement Ljubljanske mlekarne: kornet Zlatorog


Miha Vipotnik, Slovenia, 1996–2002, Super 16mm, 4:3, colour, 36"


» video
TV advertisement Krka: Vitaskin


Miha Vipotnik, Slovenia, 1996–2002, Super 16mm, 4:3, colour, 20"


» video
TV advertisement Peko (1)


Miha Vipotnik, Slovenia, 1996–2002, Super 16mm, 4:3, colour, 30"


» video
---
TV advertisement Zelene doline: Jogurt


Miha Vipotnik, Slovenia, 1996–2002, DigiBeta, 4:3, colour, 26"


» video
TV advertisement Mura: LeOna


Miha Vipotnik, Slovenia, 1996–2002, Super 16mm, 4:3, colour, 30"


» video
TV advertisement Peko (2)


Miha Vipotnik, Slovenia, 1996–2002, Super 16mm, 4:3, colour, 30"


» video
---
---
PROGRAM III
3 March 2020
The March program consists of works from 1988 to 2015. Four videos / films, in one way or another, address the topics of personal and social control, an atmosphere of political instability and military interventions. This holds also for the author's commercial linking the bank and the prison, for which he received The commercial won the Silver Stick Award at the Golden Drum International Advertising Festival in 1997.
The program will be introduced by Nika Grabar, a good connoisseur of Vipotnik's oeuvre, who is also interested in a specific "video / space" that absorbs the viewer and also Vipotnik's play with means through exploring technologies: He inserts mistakes into the system to make it visible. With the help of a "too good" use, read manipulation of media technologies, whether analog or digital, he keeps playing with the "dwarves" who regularly inhabit our daily lives."