Lecture by Barbara Borčić about media/video practices
7 – 8 June 2018
National Museum, Jerozolimskie Avenue 3, Warsaw
---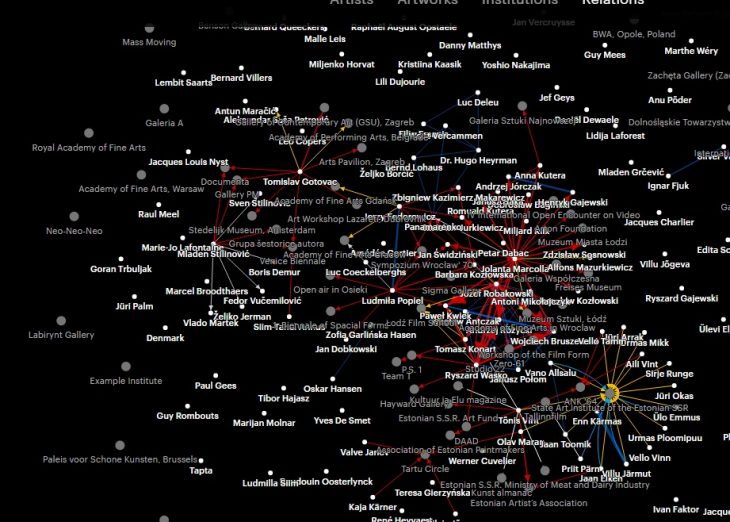 Barbara Borčić will attend the Revisiting Heritage conference in Warsaw (June 7-8, 2018) dedicated to mapping and presenting neo-avant-garde and new-media practices, which are often omitted from the dominant western canon. She will present the DIVA Station archive and two examples of media/video practices: Miha Vipotnik (1970s – neo–avant-garde) and Laibach Kunst (1980s – retro–avant-garde).
The conference Revisiting Heritage is organised by Arton Fondation (Warsaw) in cooperation with KUMU Art Museum of Estonia (Tallinn), Office for Photography (Zagreb) and LUCA School of Arts (Brussels) as a part of the international project Forgotten Heritage – European Avant-Garde Art Online.
The project already launched the online archive Forgotten Heritage. The database took years to assemble, with several organisations digitising their archives for the first time. The online archive includes thousands of videos, photos and recordings from often-overlooked artists. The project will wrap up with a series of exhibitions.
---

Barbara Borčić,art historian and media theorist, program advisor at SCCA-Ljubljana, Center for Contemporary Arts and head of video programs and video archive DIVA Station. She is active as a curator (recently she curated e.city-Ljubljana / Projected Visions. From art in the urban context to fiction and dystopia, Apollonia, échanges artistiques européens, Strasbourg, 27 January–25 February 2018), lecturer and publicist. She has regularly lectured and published texts, e.g. Video Art from Conceptualism to Postmodernism, Impossible Histories: Historical Avant-Gardes, Neo-Avant-Gardes, and Post-Avant-Gardes in Yugoslavia, 1918-1991 (Massachusetts: MIT Press 2003); What Television Can Be, And What Artists Can Use It For, Amuse Me (Ljubljana: Mestna galerija, 2013); The ŠKUC Gallery, Alternative Culture, and Neue Slowenische Kunst in the 1980s, NSK from Kapital to Capital. Neue Slowenische Kunst – The Event of the Final Decade of Yugoslavia (Ljubljana: Moderna galerija & Massachusetts: MIT Press, 2015). She is the author of the book Celostna umetnina Laibach. Fragmentarni pogled [Gesamtkunst Laibach. Fragmentary View], (Ljubljana: Založba/*cf, 2013).
---
Project Forgotten Heritage is supported by EU program Creative Europe – Culture.