Screening of Marko A. Kovačič's film/video opus from 1983–2021
Screenings, exhibition and talks
Tuesday, 28 February 2023, 9 pm
Slovenian Cinematheque, Miklošičeva cesta 28, Ljubljana
---
PROGRAMME III
A program of film works by Marko A. Kovačič, which derive from the author's new-wave and expressive performances, the dramaturgical performative dynamics of the Ana Monro Theatre or the humorous epic of the music-visual group Zlati Kastrioti. Thematically, they encompass the author's recognizable motifs and visual image, everything from shifting identities, erotica, politics and psychoanalysis to the satirical genre exploration of the detective story with an intertwining of the personal and the artistic.
The screening will be introduced by media theorist dr. Melita Zajc.
---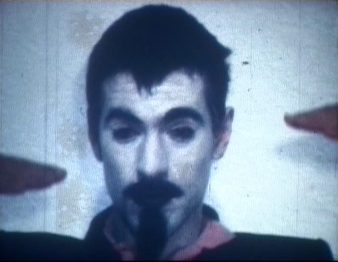 Casus Belli
Marko A. Kovačič, Slovenia (Yugoslavia), 1983, Super8, colour, 13'30"
Hey Joe
Marko A. Kovačič, Slovenia (Yugoslavia), 1984, Super8, colour, 4'37"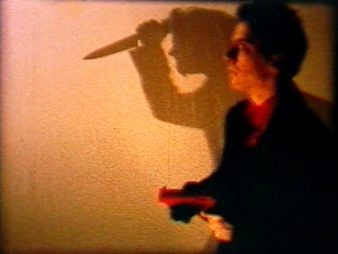 Part II
Marko A. Kovačič, Slovenia (Yugoslavia), 1984, Super8, colour, 20′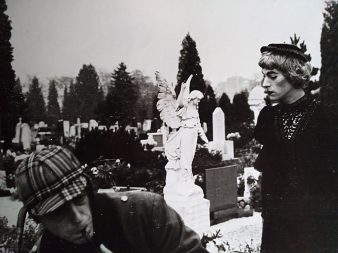 Inspector Swake
Marko A. Kovačič and Ana Monro Theatre, Slovenia (Yugoslavia), 1984, 16 mm, colour, 5′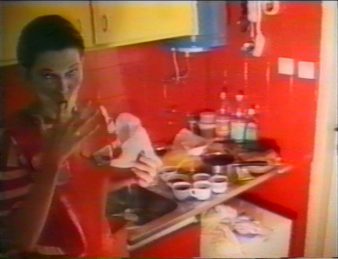 Thirst
Marko A. Kovačič and Ana Monro Theatre, Slovenia, 1993, digital format (shot on U-matic in Beta SP), 12'20"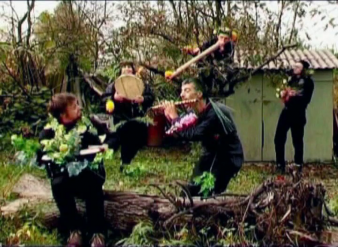 Golden Section/Indeed
Marko A. Kovačič and VIS Zlati Kastrioti, Slovenia, 2004, digital format (shot on mini DV), 29′
---
Photo: SCCA-Ljubljana archive
---
Programme at the Slovenian Cinematheque (December 2022 – March 2023)
6 December 2022 / 24 January / 28 February / 23 March 2023
The programme prepared by: SCCA-Ljubljana and Slovenian Cinematheque
Curators: Barbara Borčić, Peter Cerovšek
The programme of Marko A. Kovačič's artistic opus with screenings, an exhibition and accompanying programme is being prepared in cooperation with the Slovenian Cinematheque. We keep his works in the archive of DIVA Station and have been systematically researching them recently, as the artist is one of the important representatives of film and video creativity in Slovenia. From now on, Kovačič's film and video opus will also be stored in the archives of the Slovenian Cinematheque.
For the first time, Marko A. Kovačič's works will be comprehensively put on display and for consideration by experts and the general public, as well as the younger generation, who may not yet be familiar with them. Short films and video works are rarely shown here in cinemas or on television, more or less they can only be seen at festivals (e.g. FeKK short film festival and V-F-X Ljubljana festival of experimental audiovisual practices). The program, which will also be partially accessible on the Slovenian Film Database (BSF) online, will take us through Kovačić's forty-year opus with screenings once a month from December 2022 to March 2023, which includes narrative, performative, experimental and documentary works, from the early analog on magnetic tape (VHS, U-matic, Beta) to later digital formats.
---
Coproduction:  SCCA-Ljubljana/DIVA Station and Slovenian Cinematheque
Partners: RTV Slovenija, Baza slovenskih filmov (BSF)
Supported by: Ministry of Culture of the Republic of Slovenia and City of Ljubljana – Department for Culture