Screening, talk and socializing
Friday, 12 June 2020, 8.30 pm
Škuc Gallery, Stari trg 21, Ljubljana

The inner courtyard of the Škuc Gallery is the venue for a new programme of screenings and talks on art, video, and film – VideoGarden (VideoDvorišče), prepared by SCCA-Ljubljana, Kraken Short Film Promotion Society and Škuc Gallery. We are leaving the confined digital spaces and domestic solitude, and moving to the public urban space. The season of summer events is opening with the screening of the thematic curated program, followed by a relaxed conversation with the authors.
---
PROGRAM
Welcome to the 8-minute Autumnal Picnic in the Past
Participants: Kristina Kokalj, Davorin Marc, Andrej Lupinc – Lupo, Sašo Sedlaček, Neven Korda, Marko Kovačič, Maja Prelog and Blaž Murn, Zmago Lenardič
Curators: Barbara Borčić and Peter Cerovšek (SCCA-Ljubljana)
Duration: 81'
The environmental crisis can be perceived and interpreted in an essentially abstract form, or, on the contrary, it can be put in its rough and painful concreteness. When these two possibilities meet in this programme, the real space becomes obsolete and media space-time arises while the time flattens. The future and the past become one, which is the cinematic experience in the universal blackness of the screening place. Like there is no white without black and no silence without noise, there is also no beauty without a dump and no nature without people, no organic without mechanical/technological.
The programme consists of eight works by eight artists that address the topic of environment in many different dimensions and artistic approaches, ranging from the 1990s until today. The programme premiered at the Alternative Film / Video festival in Belgrade in December last year and will be presented at VideoGarden for the first time in this local environment.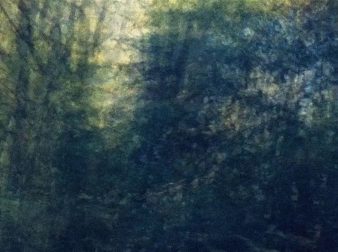 Davorin Marc, Dobrodošlica./Welcome.
D.M., 2017, 2′ 40"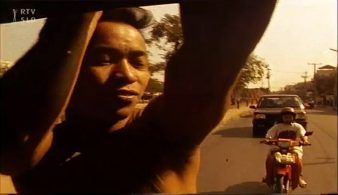 Andrej Lupinc – Lupo, V 8 minutah okoli sveta/In 8 Minutes around the World,
TV Slovenija & A. L., 1990–2000, 9′ 48"
» video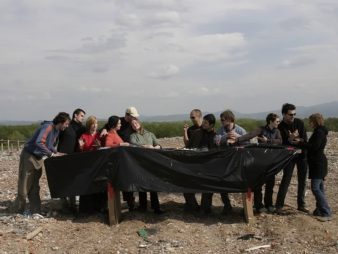 Sašo Sedlaček, Piknik na deponiji/Picnic on a Dump,
S.S., 2004, 9′ 06"
» video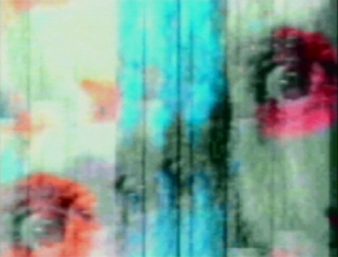 Neven Korda, Jesensko tihožitje/An Autumnal Still Life
N.K., 2001–2005, 4′ 05"
» video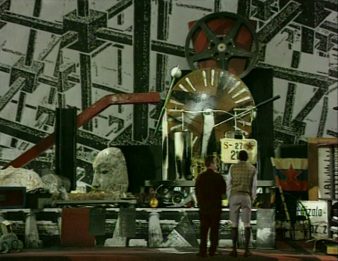 Marko Kovačič, Naprej v preteklost/Forth into the Past
Forum Ljubljana & VPK, 1995, 9′ 31"
» video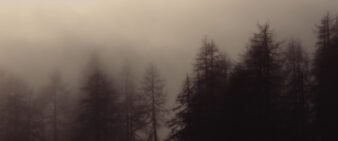 RÁTNEEK (Maja Prelog & Blaž Murn), 2045
R., 2016, 8′ 30"
» video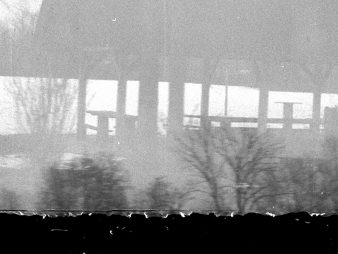 Kristina Kokalj, Mašina spomina/Memory Machine
K.K., 2018, 4′ 25"
» video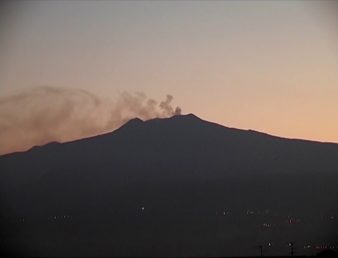 Zmago Lenárdič, Waiting for Changes
Z.L., 2007, 32′
» video
---
The event will be held in accordance with the recommendations of the National Institute of Public Health.
The event will be postponed in case of rain – we will inform you about the new date via social networks and the websites of the ŠKUC Association, Škuc Gallery and the Center for Contemporary Arts SCCA-Ljubljana.
---
DIVA Station is an online and physical archive that SCCA-Ljubljana has been developing since 2005 with the aim of researching, documenting, archiving and presenting art film, video and new media art.
The Kraken Short Film Promotion Society strives to promote short film as an independent film form and to spread film culture in the broadest sense. The main project of the Kraken association is FeKK – a short film festival in Ljubljana, which will have its sixth edition in 2020.
---
Photo: Škuc Gallery and SCCA-Ljubljana archive, Qëndresë Deda
---
Organization: SCCA-Ljubljana / DIVA Station, Kraken Society, Škuc Gallery
VideoGarden events are organised with the support of Ministry of Public Administration.
The program of SCCA-Ljubljana is supported by the Municipality of Ljubljana.